And just like that, last weekend I celebrated my very first Mother's Day! In honour of all our lovely moms and grandmas, we went out for dimsum with extended family on Friday, Saturday and Sunday. Then, to top things off, Joseph and I enjoyed dessert at Café Boulud on Saturday night. Don't worry, Baby James was well taken care of. 😉 We haven't had date night in a while because we've been so busy sleep training James, but now that our baby's got the hang of it we have more freedom whenever my family offers to babysit. Thanks dad! Lol
Joseph and I had a lot of fun on Saturday night. Café Boulud is a French restaurant at the Four Seasons Hotel in downtown Toronto, which also happens to be a gorgeous hotel near Yorkville (a posh part of town). The restaurant was bustling with diners so reservations are highly recommended. We would say the atmosphere is casual elegant dining, and a place where you can relax. We saw all sorts of diners: those with young children, birthday celebrations, friends and family gatherings, and romantic dates. They all fit the bill.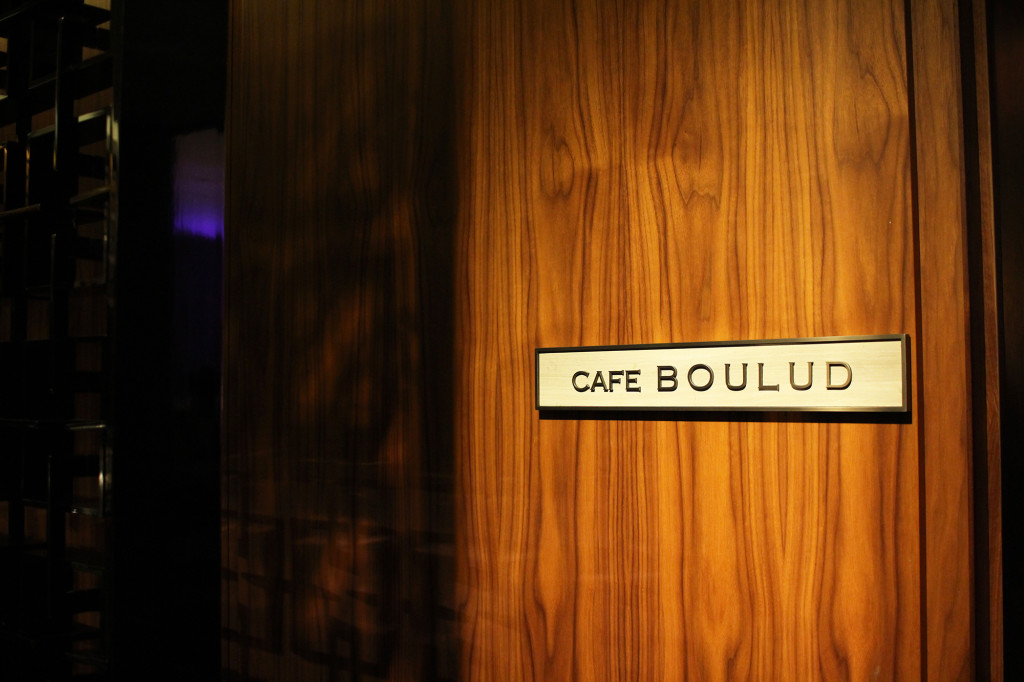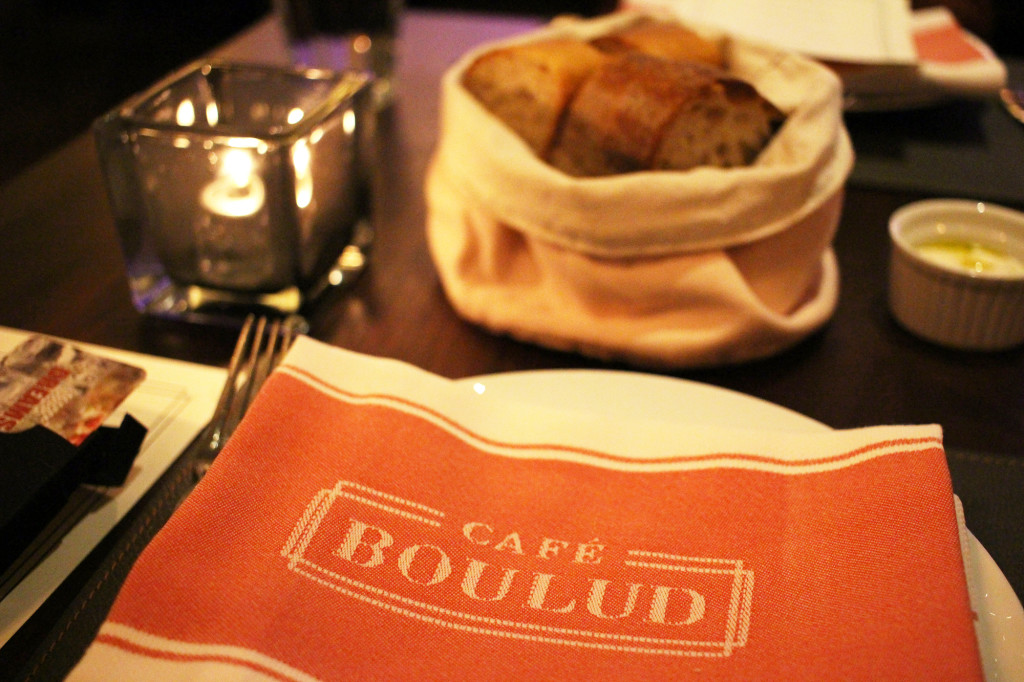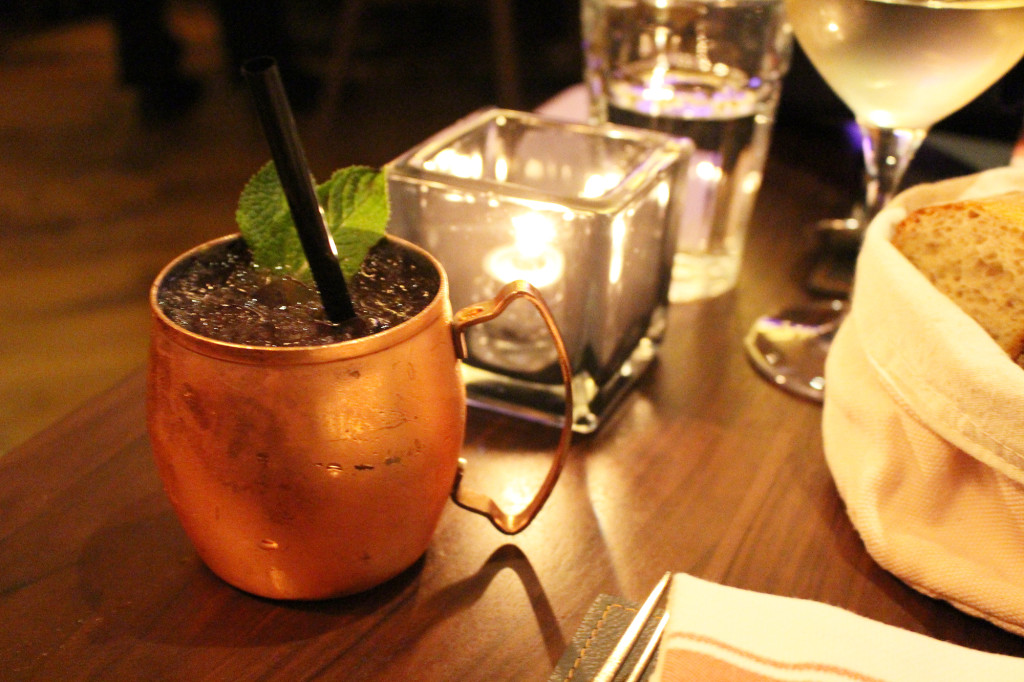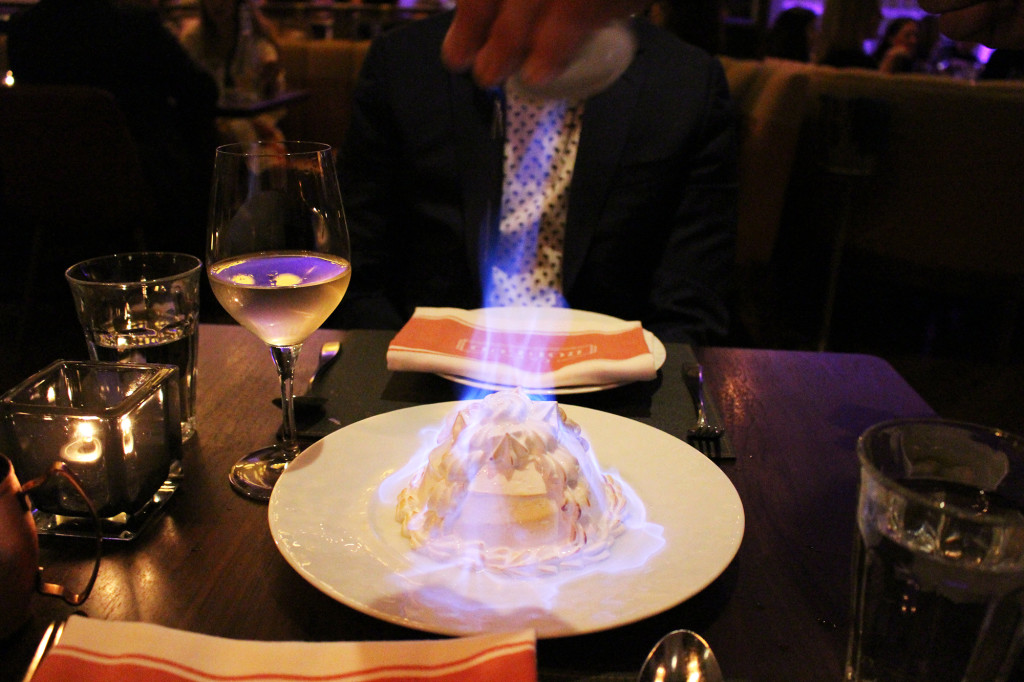 For dessert we pigged out and ordered three different ones, starting with the Baked Alaska for Two. Fresh meringue covered the outside, while pistachio and vanilla ice cream and raspberry sorbet layered the inside. Right before serving, the entire dessert was flambéed. Look at that flame! 😮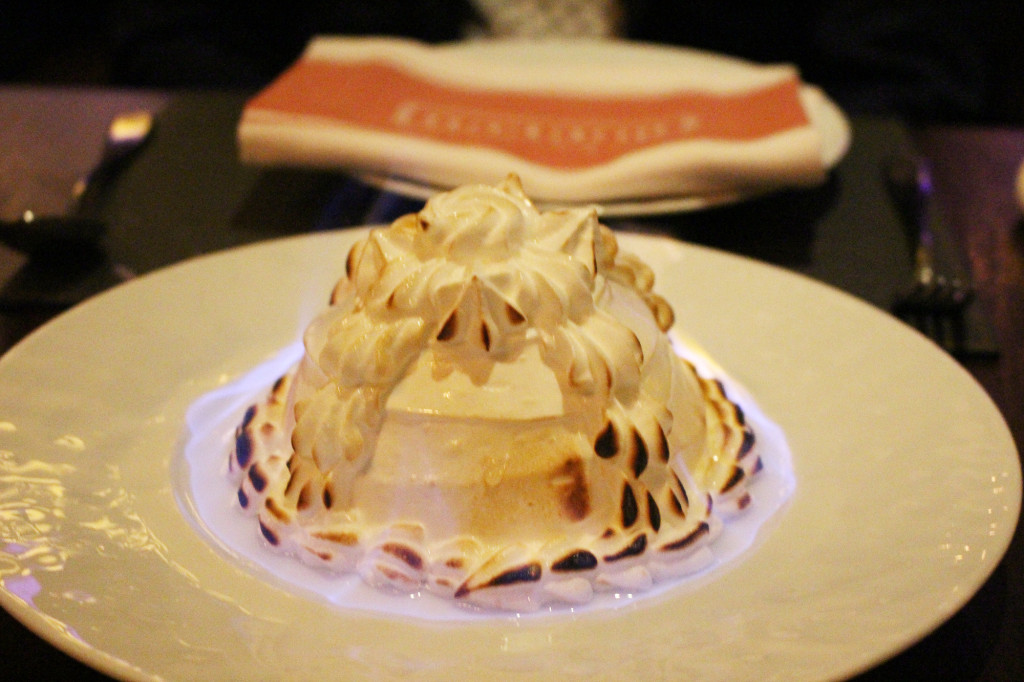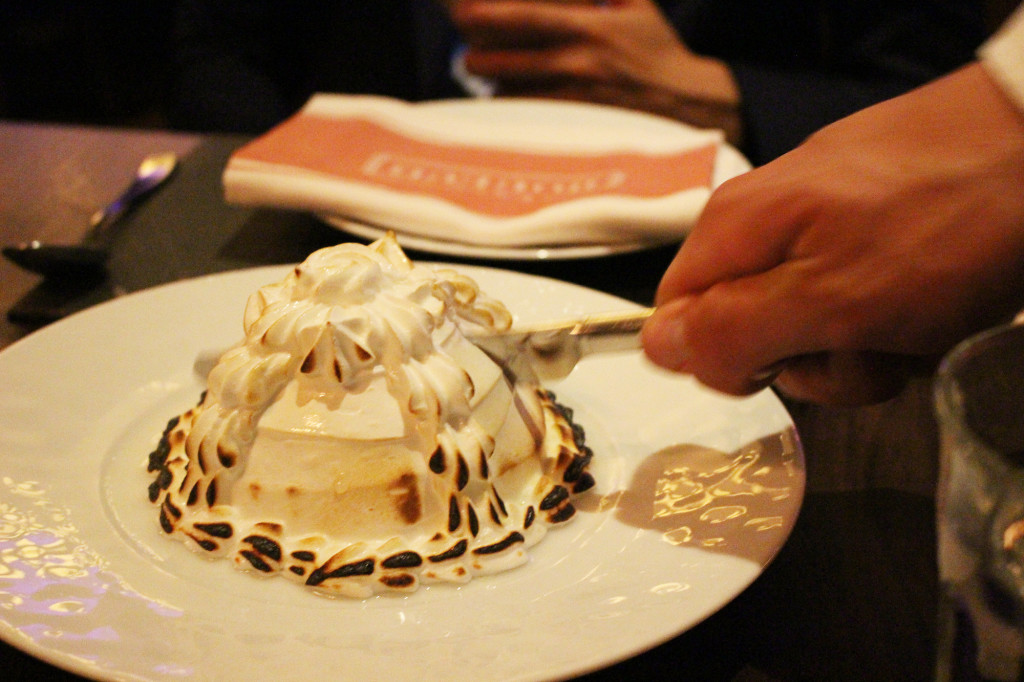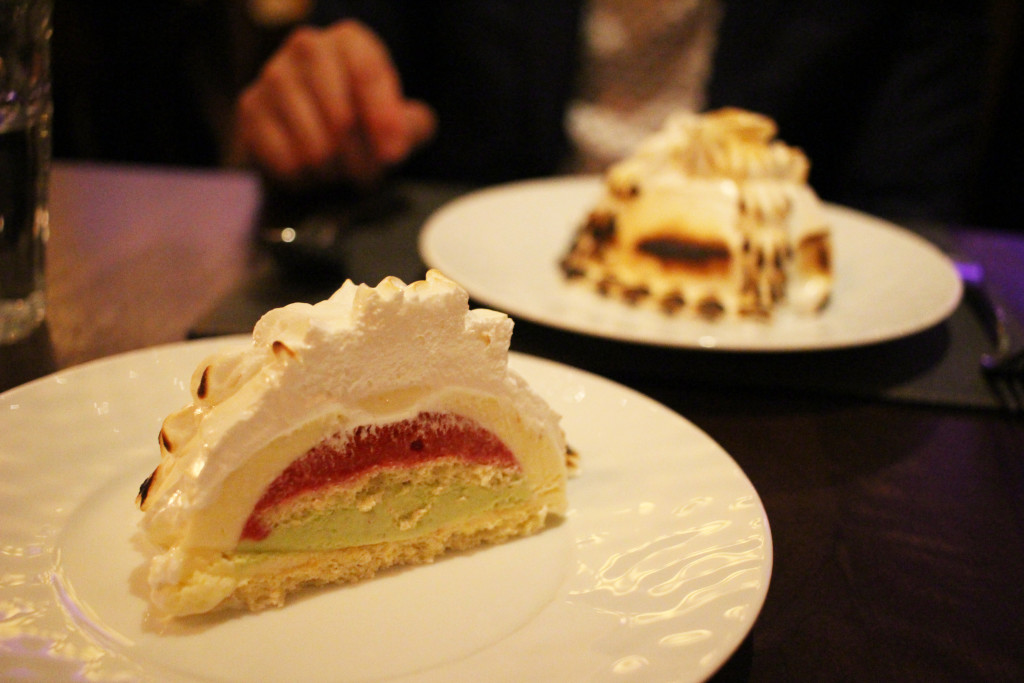 Inside: pistachio and vanilla ice cream, and raspberry sorbet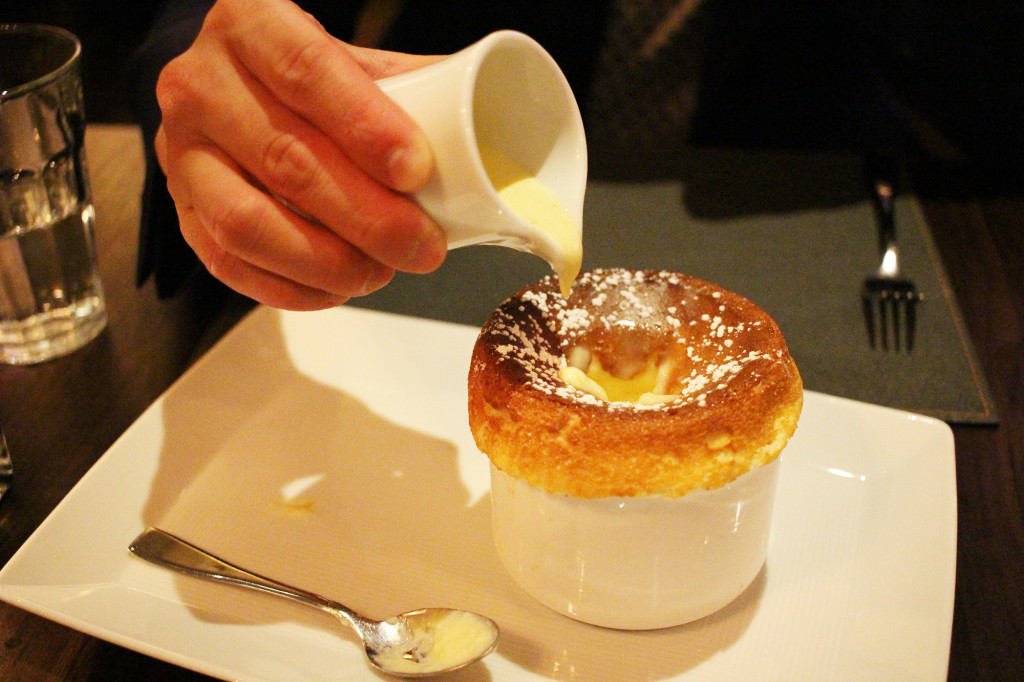 Soufflé Grand Marnier: orange creme anglaise
Next was a soufflé with Grand Marnier. This dessert was absolutely delicious! We love soufflés, and this was no exception. It was so soft, light and moist, and the flavours just melded together. Even thinking about it makes my mouth water!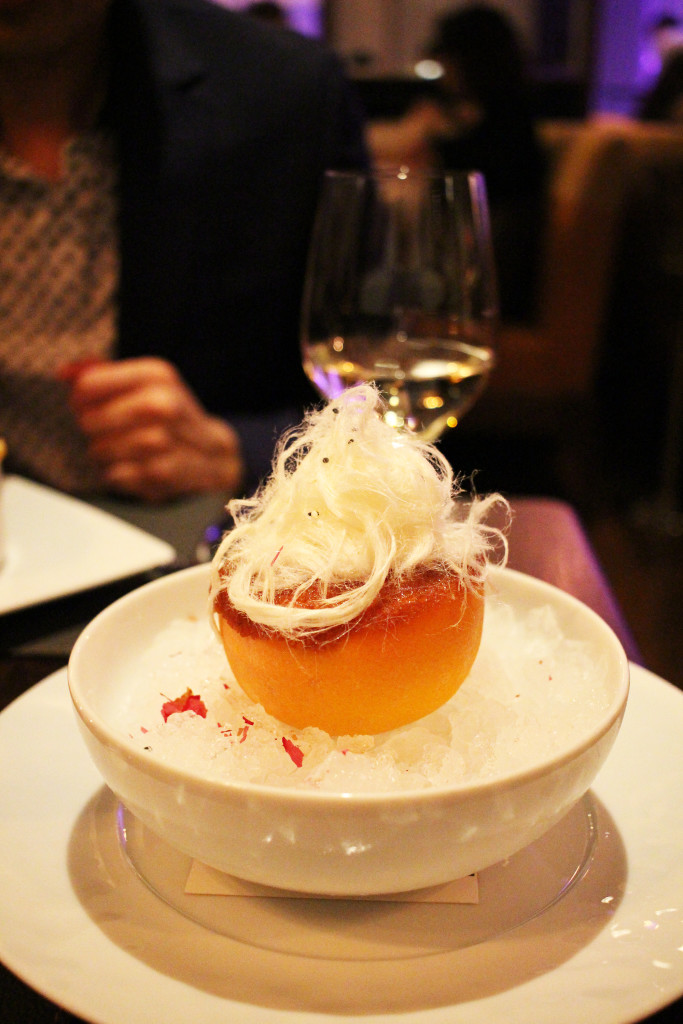 Grapefruit Givre: sesame halva, rose loukoum, grapefruit sorbet
And then there was the Grapefruit Givre. This was my favourite one of all. The grapefruit sorbet was incredibly refreshing, and I adored the presentation of the dessert in the halved grapefruit cup. The spun white stuff was similar to sesame cotton candy, whereas the rosewater flavoured loukoum were these chewy candies that, to me, resembled Asian mochi but firmer. You've gotta try this! 😀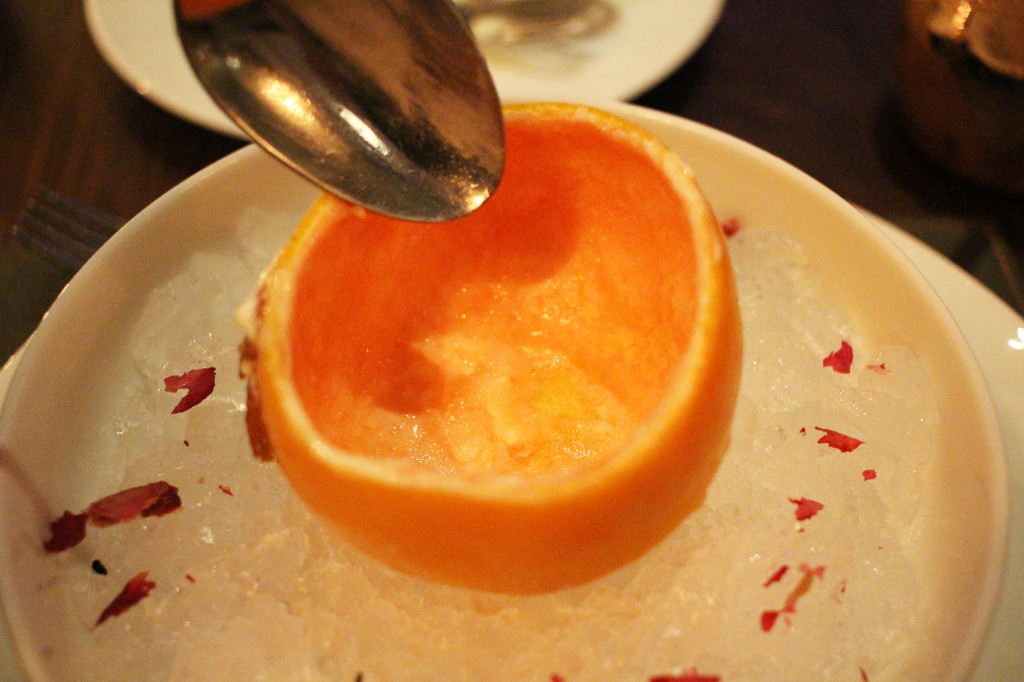 All gone!
Cheers,
Melissa
Café Boulud
Four Seasons Hotel
60 Yorkville Avenue
Toronto, Ontario, Canada
M4W 0A4
(416) 963-6000
P.S Just a friendly reminder that Café Boulud is on the second floor of the Four Seasons.