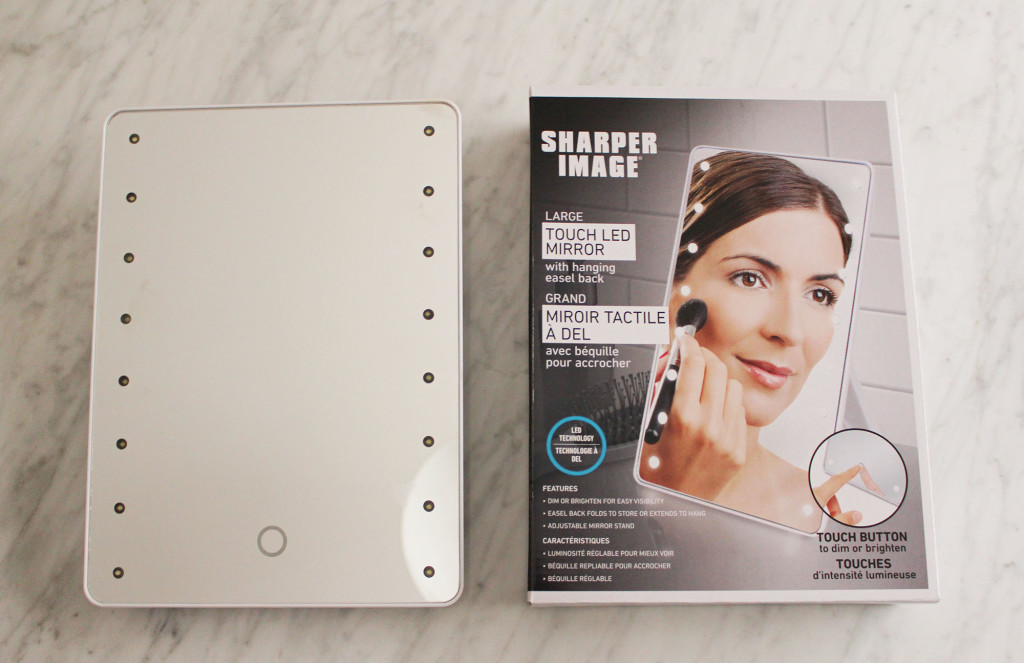 Makeup has always been a huge passion of mine. I enjoy the creative freedom that comes with the application of different products, and each day is another step towards mastering a technique. Even though I have a baby to care for, I still continue my morning makeup routine albeit everything done way faster than before. Hey, I've got a tight Mommy schedule but I've still gotta squeeze in some much needed "me" time! By now I'm quite certain that Baby James has seen more makeup than the average adult. 😛
Equally important as the cosmetics themselves are the tools of the trade. These include brushes, lighting, and mirrors. Recently I received a Sharper Image Large Touch LED Mirror with hanging easel back from Ginsey Home Solutions (GHS). It's a brand new product not yet released on the market so I was eager to try it out. For this review, the opinions and claims reflected in this blog post are my own and not those of GHS.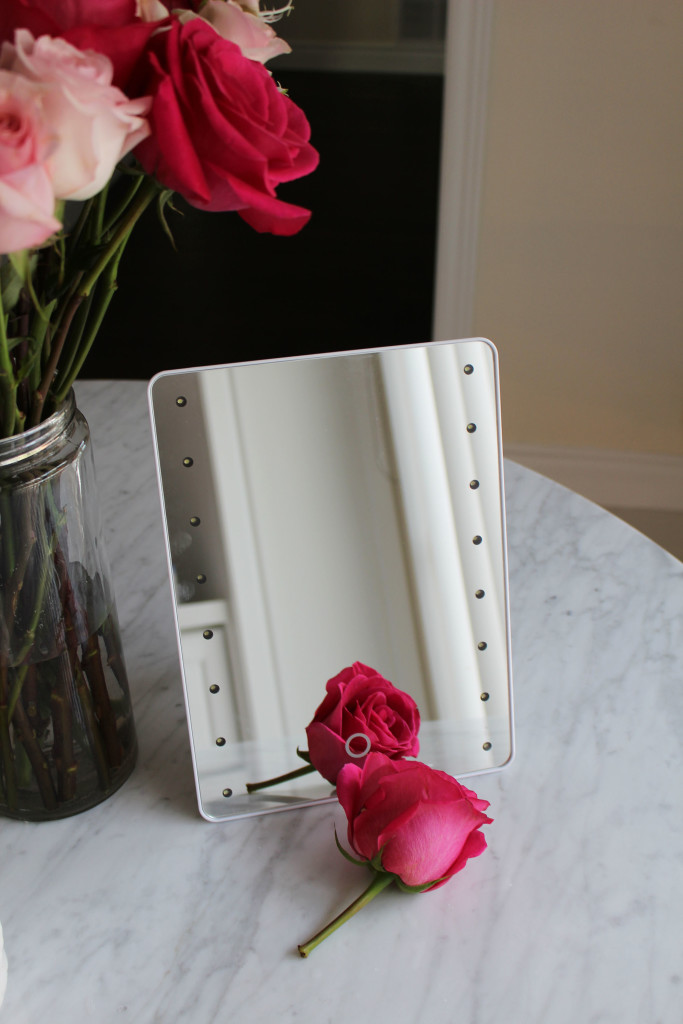 Sharper Image Large Touch LED Mirror: lights OFF
The first thought that came to mind was the modern design of the mirror. It's sleek and sturdy, and its large size is excellent for makeup application. Too often mirrors are so small that you can't fit your entire head into view, which makes it difficult to complete the big picture. That is definitely not an issue with this, as it measures 20.6 cm x 28 cm (8.125 in x 11 in) with a width of 4.4 cm (1.75 in)!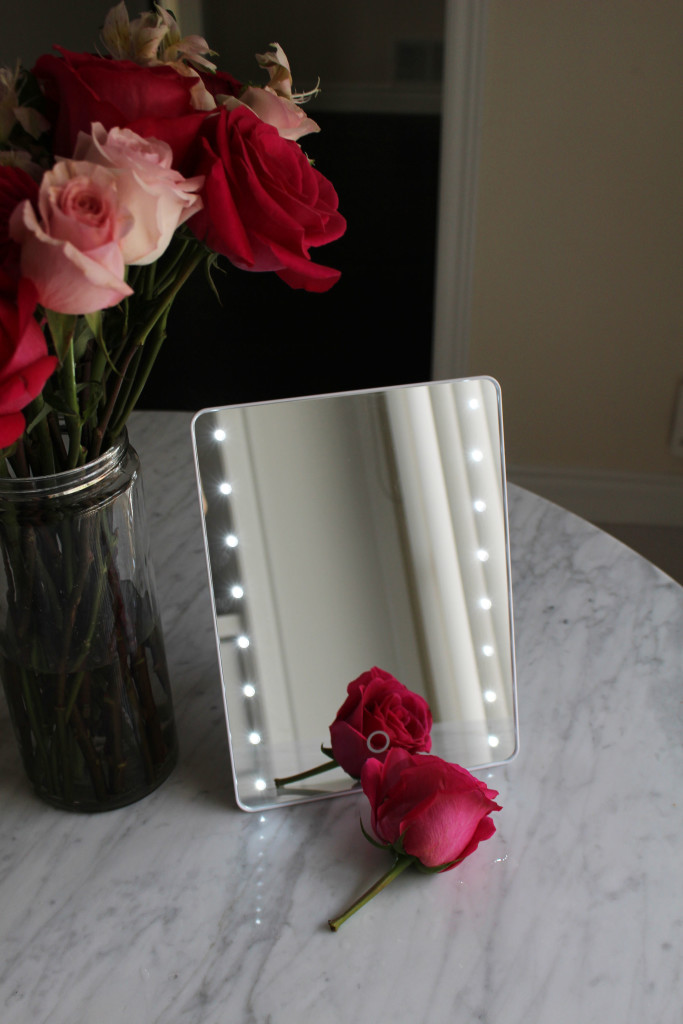 Sharper Image Large Touch LED Mirror: lights ON during morning daylight
The LED lights are directed towards you and sit on the sides of the mirror, hence also the sides of your face, for optimal lighting. This is the format of lighting that pros use because you can see your face most clearly and without shadows. The lightbulbs may be small, but the lighting is strong and can be dimmed to your liking. For me the original setting is too bright, and I wish there were fewer LED lights per column, but in a dark situation (such as on an airplane) I would appreciate the visibility.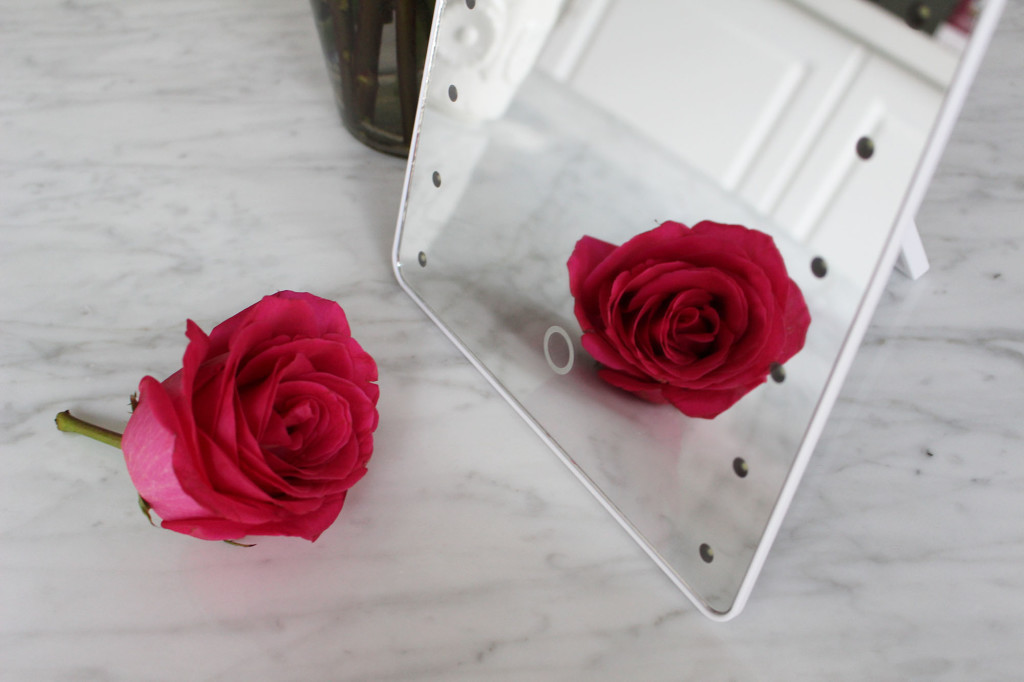 Touch button dimmer in centre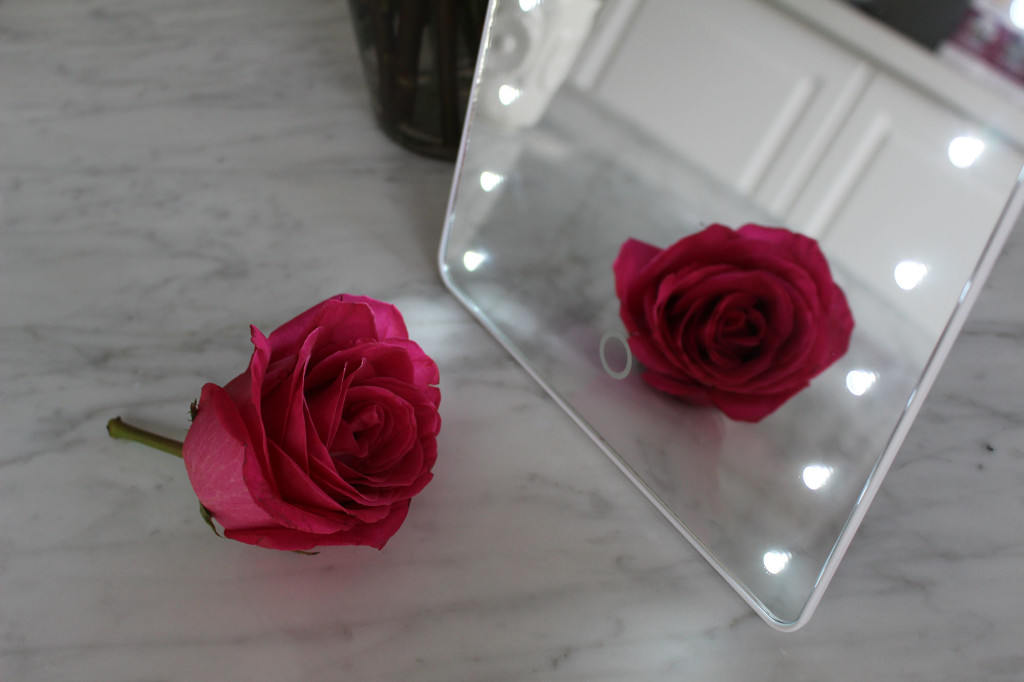 At the bottom of the mirror is the touch button that looks like an "O". Tap the "O" once to turn on the lights, and then hold down the "O" with your finger to dim until the lowest setting. If you release your finger and hold down the "O" once more, the lights will brighten back up again. I appreciate the modern touchscreen design, but I would prefer the lights to dim more gradually and less quickly, with increased sensitivity and greater control over the button.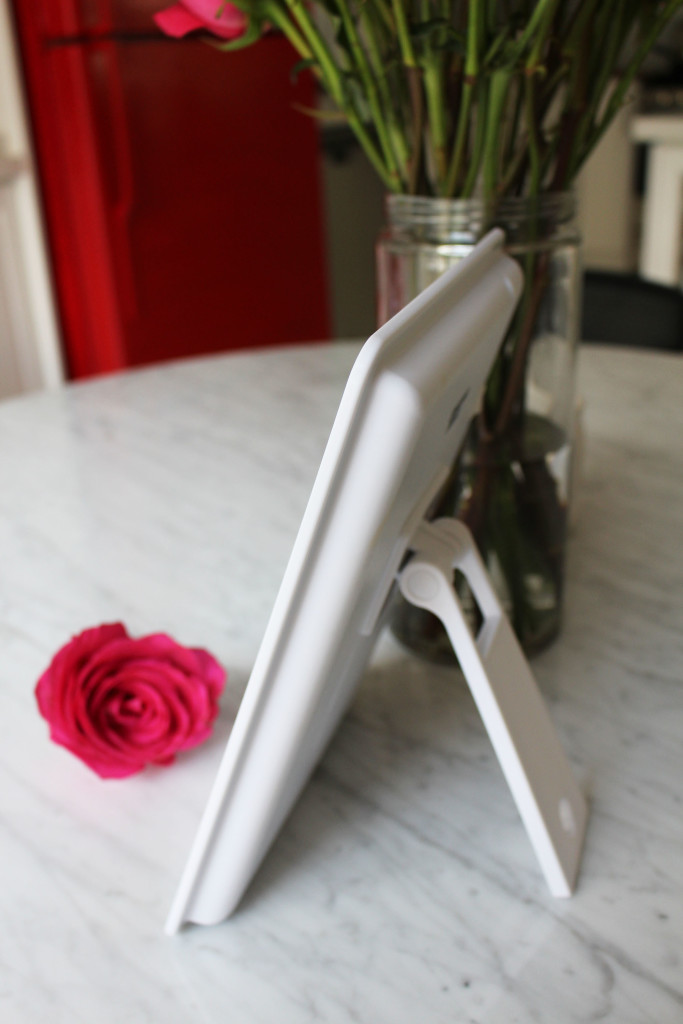 Sleek profile with adjustable easel back.
The easel can fold to store or extend to hang. The ability to store compactly is a huge plus because I packed this mirror into my suitcase on our most recent trip to Vegas. I was very grateful that it was lightweight yet durable in design, and that it wasn't an odd shape to pack. Essentially it helped free up a bathroom for Joseph because I was able to use it in the living area instead of hogging the hotel vanity. I look forward to bringing it on our future trips!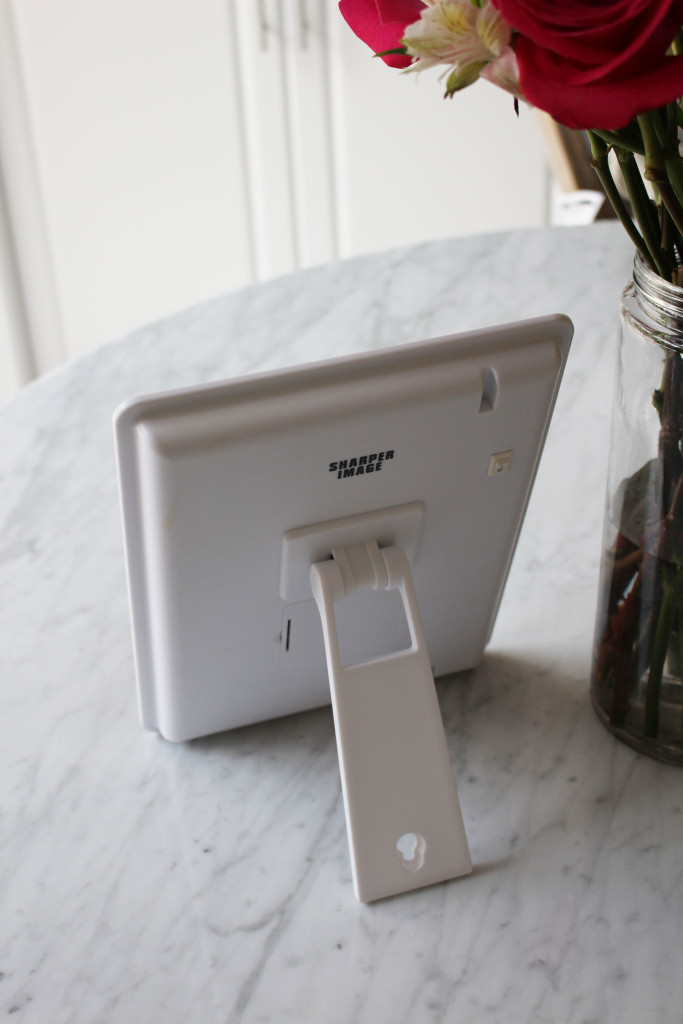 Hook on easel allows you to hang mirror overhead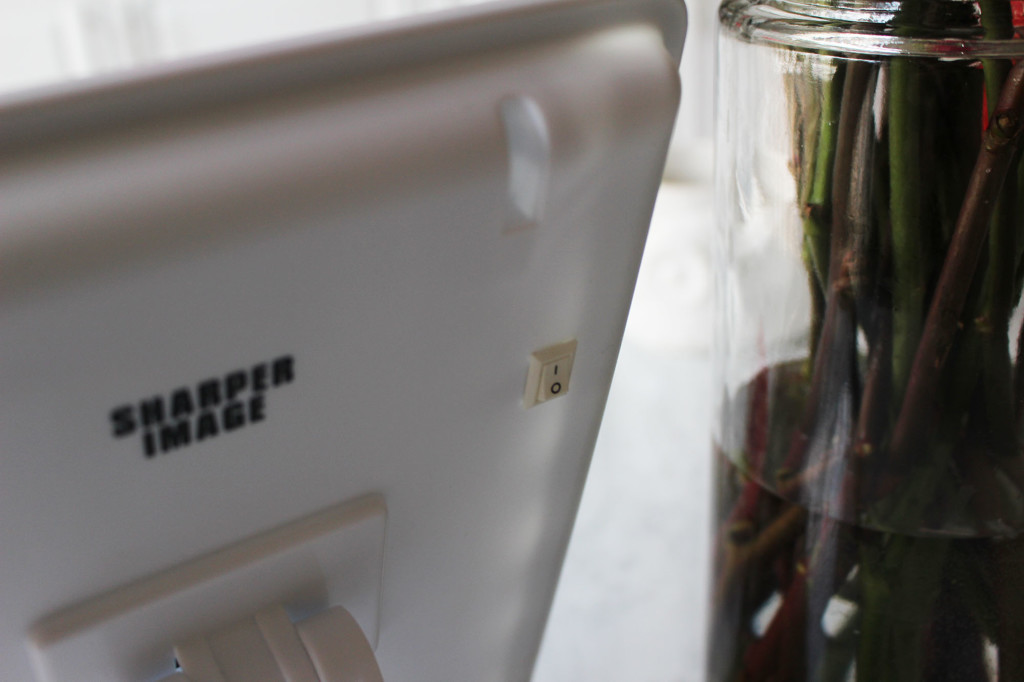 ON/OFF switch. 4 AA batteries required for operation (not included)
Overall this mirror is fantastic. Currently its portability helps me with my morning routine because I can bring it into any room with the baby and do my makeup, all the while watching over Baby James. My son and I also love to stare into the mirror (with the LED lights off) every morning, so not only is this mirror useful for mommy but it's also fun and educational for baby! 😀


Cheers,
Melissa