Helloooooo Spring! Ahh, who am I kidding… Old Man Winter is still lingering on and on and it's already the end of March! It's certainly cold these days but at least it's bye bye snow for now and hopefully (soon) I can take Baby James out to the park in nicer weather. Just a few weeks ago we also had daylight savings so now the days feel longer, which is great for a busy body like me. However, from time to time I need to remind myself to stop and smell the roses; recharging is vital to our well-being and I just don't do it enough. So just the other day when my dear friend Rowena asked me out to tea there wasn't a moment's hesitation. Afternoon tea, as one of my favourite pastimes, will always be 'yes'!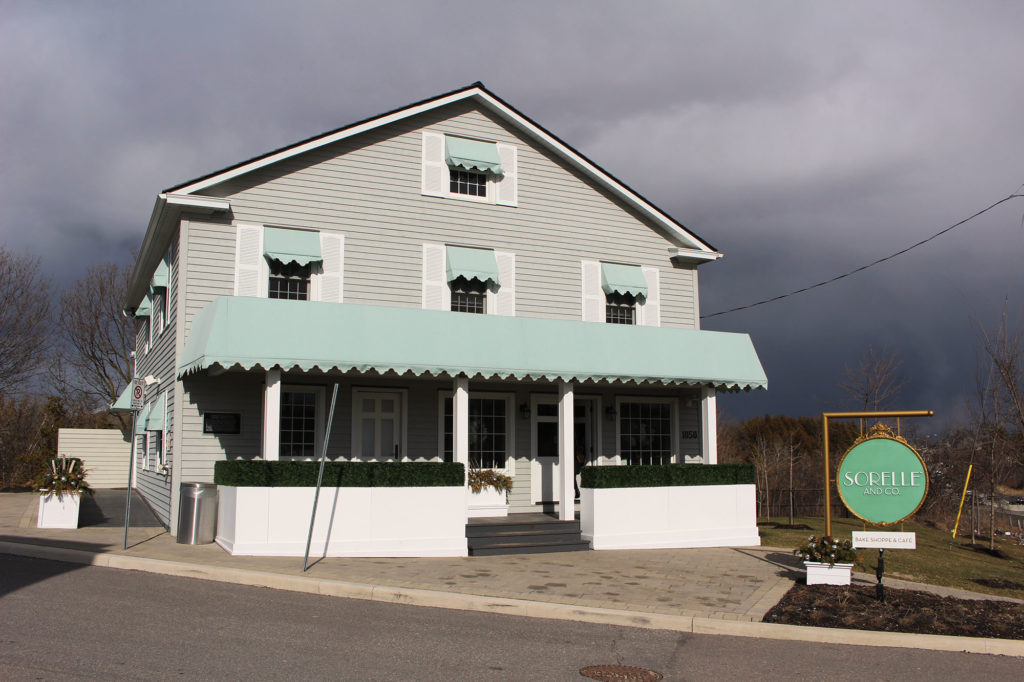 Thanks to Instagram, a new bake shop called Sorelle and Co. recently caught my eye for high tea. They specialize in gluten-free, soy-free, vegan, sesame-free, nut-free and preservative-free foods, and that applies to everything on their menu. Located in Vaughan it's a beautiful café both inside and out, and a place that exudes elegance within a family friendly environment. Although Baby James didn't join me for tea this time, we did go on a separate occasion for lunch and he was more than comfortable making his way around.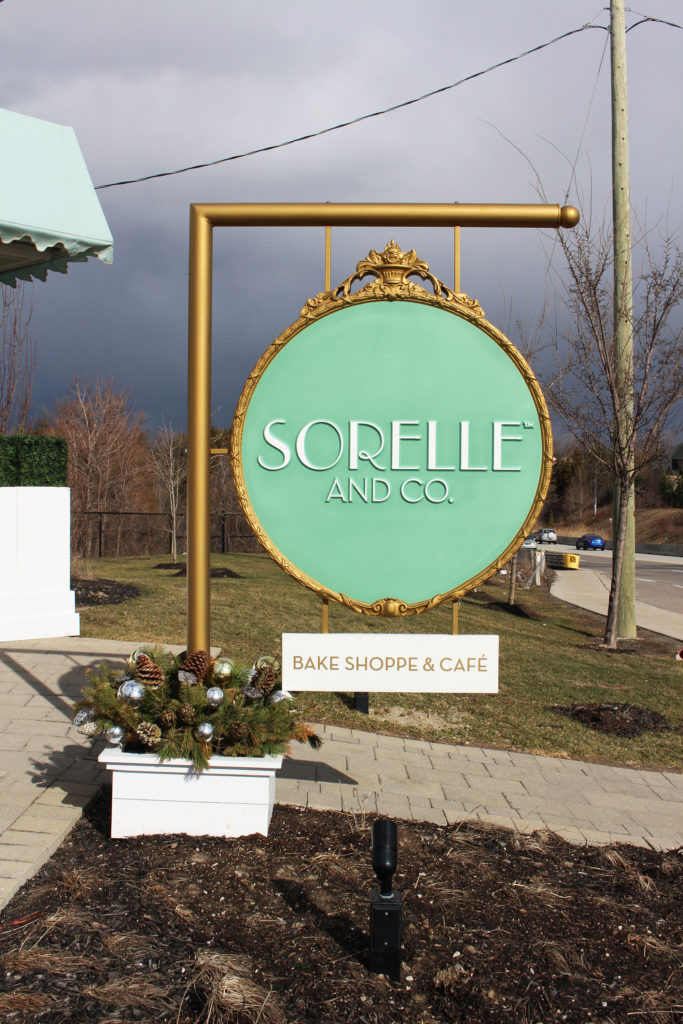 High tea is offered on a daily basis including weekdays, but only from 3-6pm. Reservations must be made at least a day in advance and a credit card is required to confirm bookings.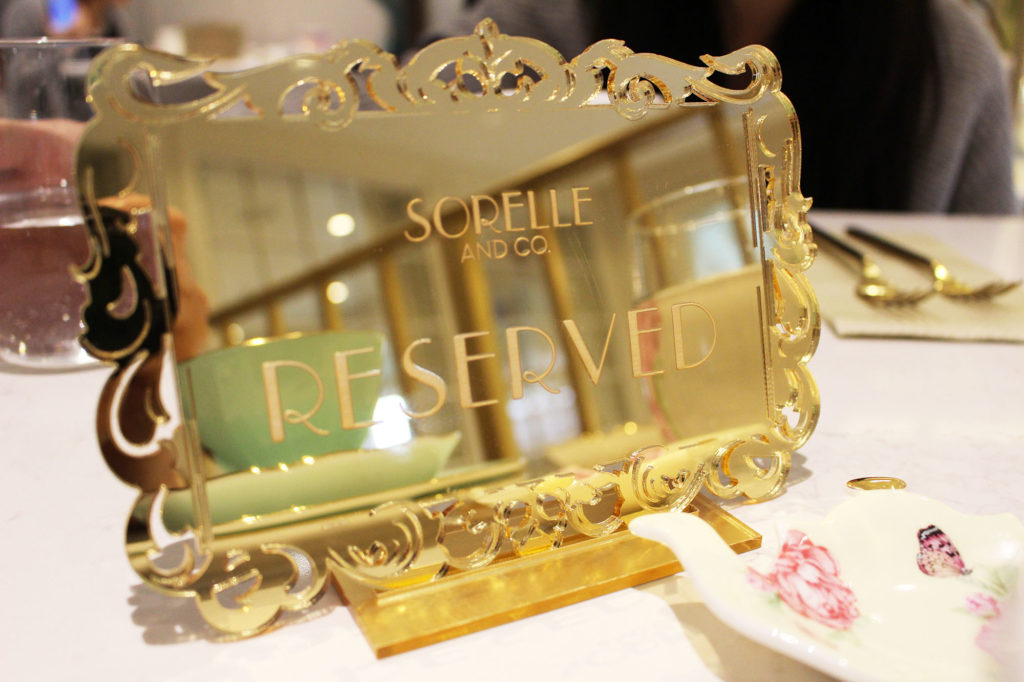 Rowena and I had a fantastic view from the second floor and  we highly recommend you reserve a table by the balcony. Since there's only one table at this spot be sure to call ahead!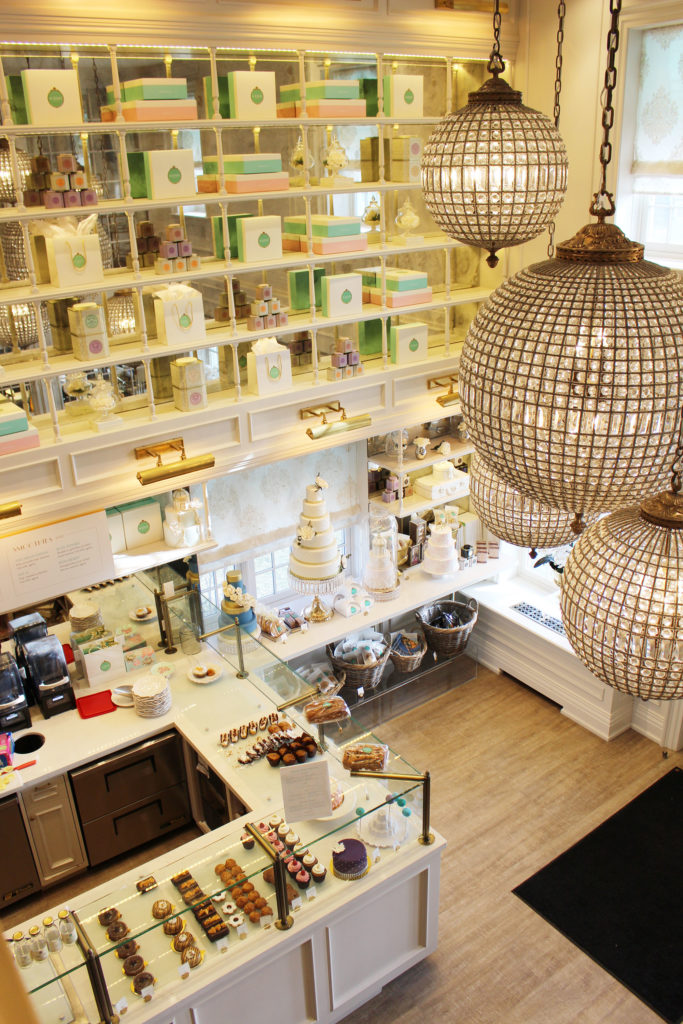 Our view from above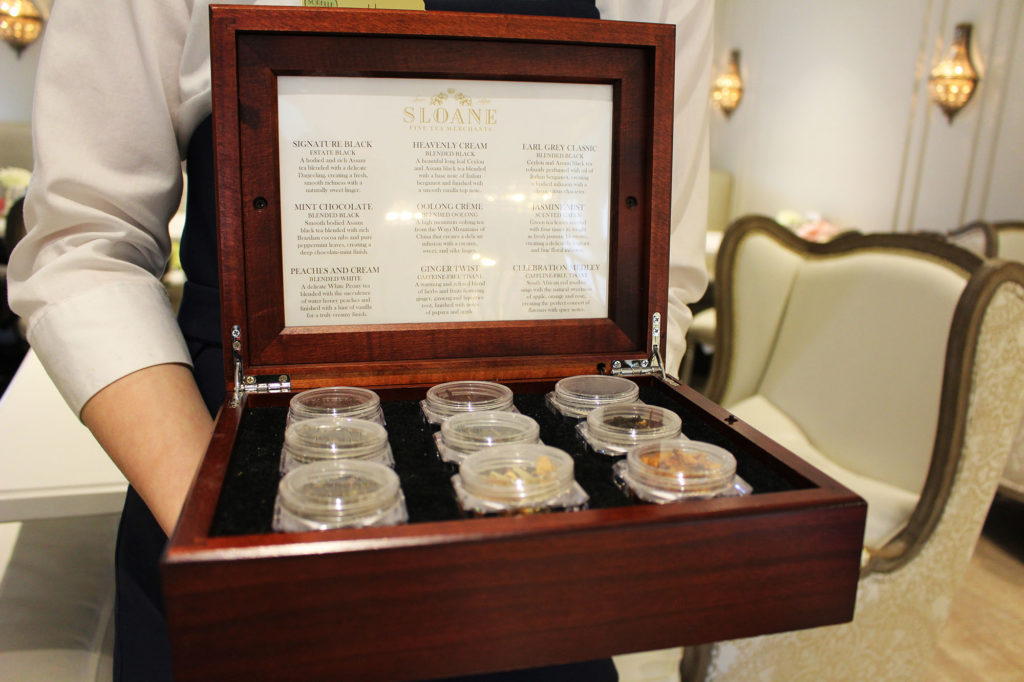 Like quite a few other afternoon tea cafes in Toronto, Sorelle and Co. serves Sloane Tea, a brand we're quite familiar with. 🙂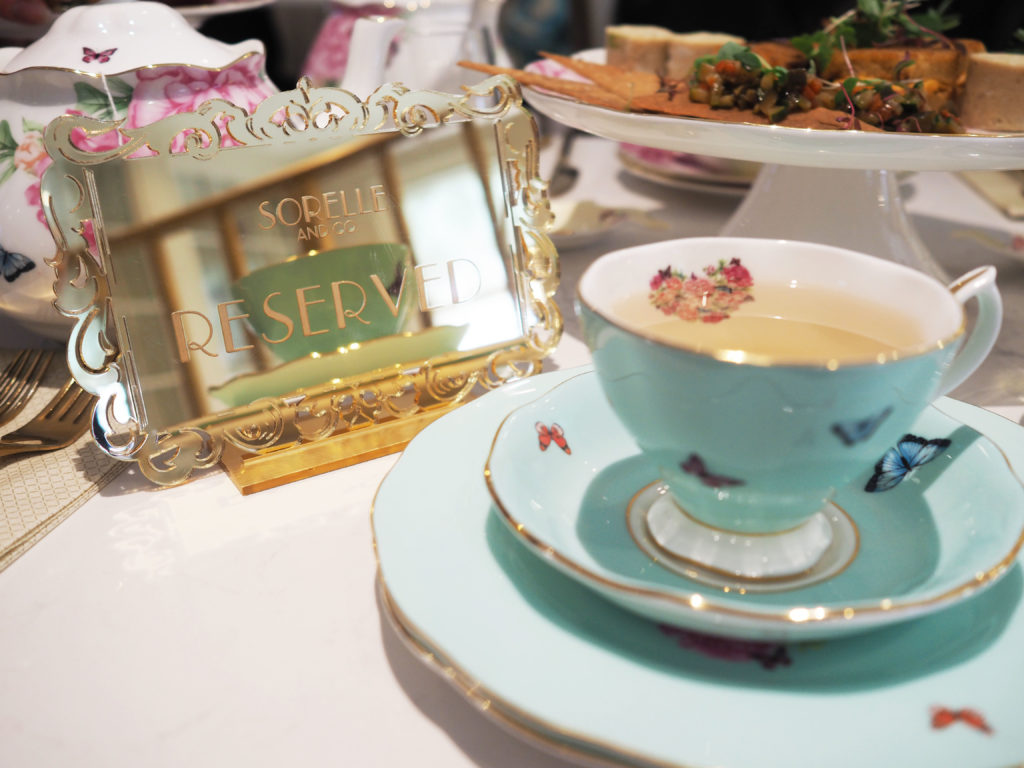 Sloane Tea Peaches and Cream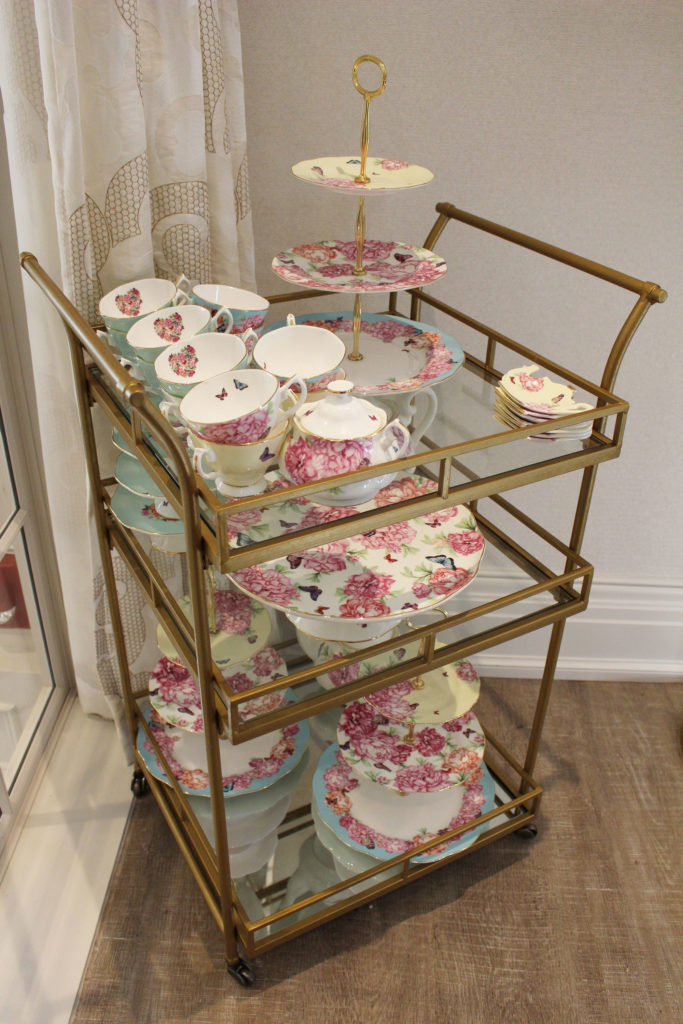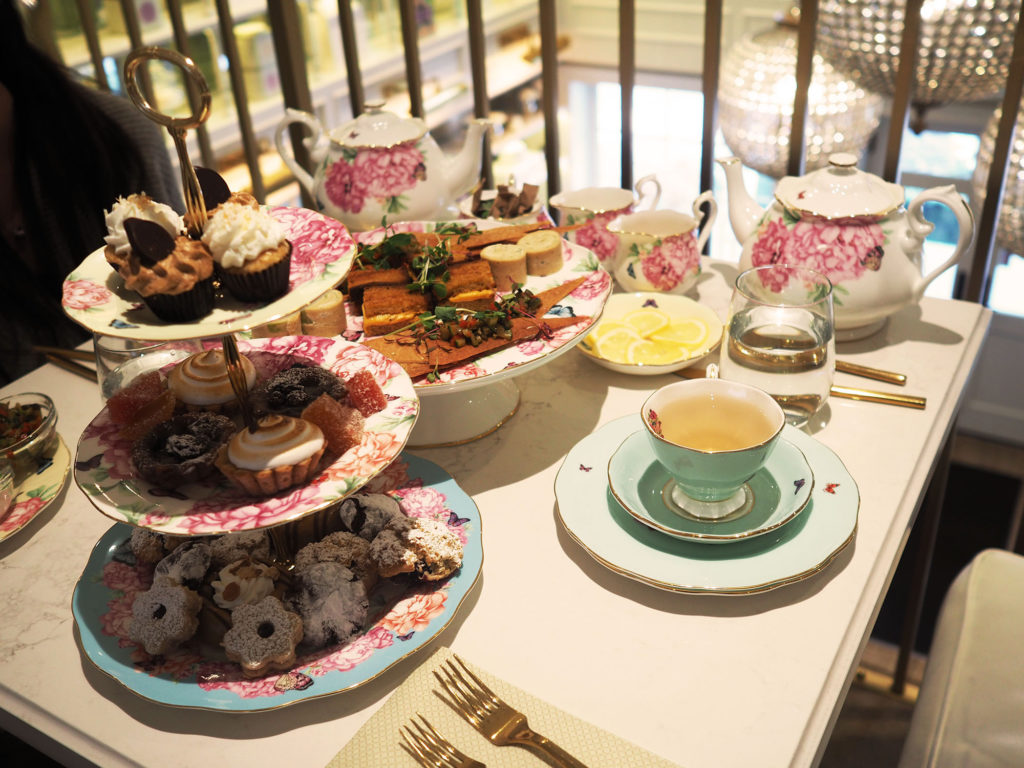 Sorelle and Co. high tea spread. Yummy! 
The following will be a picture heavy post of all of the food that we ate. For the sweets there were: cookies, maple donuts, scones, lemon meringue tarts, raisin butter tarts, fruit jellies, and cupcakes. Overall the desserts were well done, and for a menu that is gluten-free, soy-free, vegan, sesame-free, nut-free and preservative-free, everything tasted "normal" as if there were no ingredient restrictions, except for the frosting. On the cupcakes, for example, the frosting was light and fluffy and had lovely hints of coconut, but it was also slightly gritty. Same with the "devonshire cream" substitute: a delicious alternative yet also gritty textured, and not creamy enough for my taste. Being the scone fanatic that I am I also wish there were larger scones and different varieties, but that aside I enjoyed the selection of desserts and the sampling of their menu.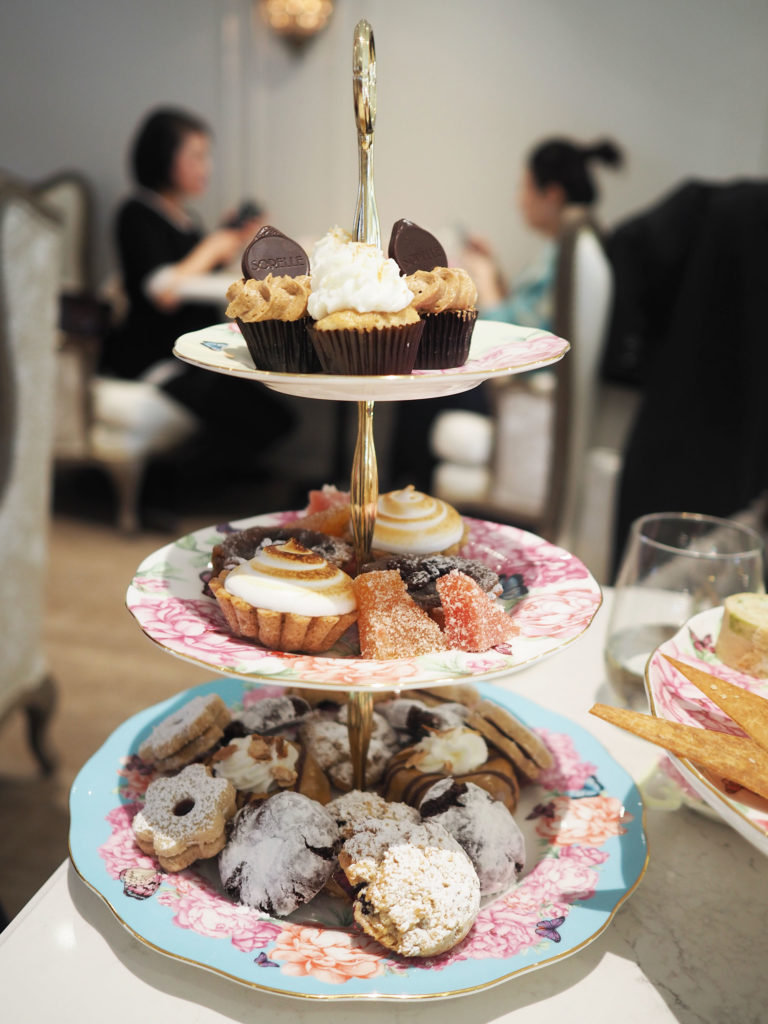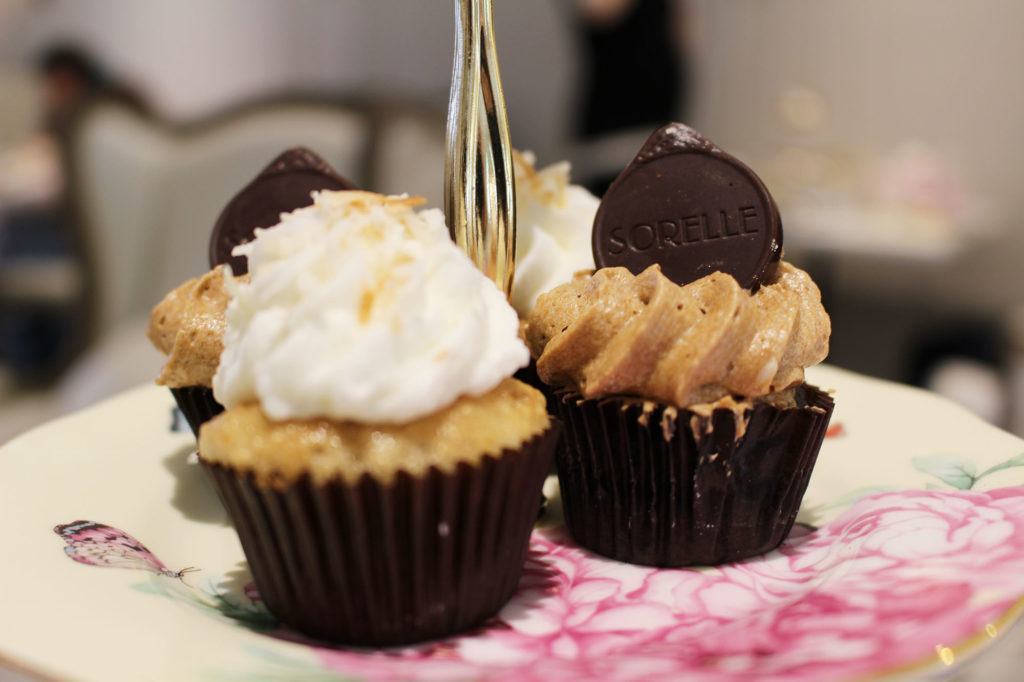 Cupcakes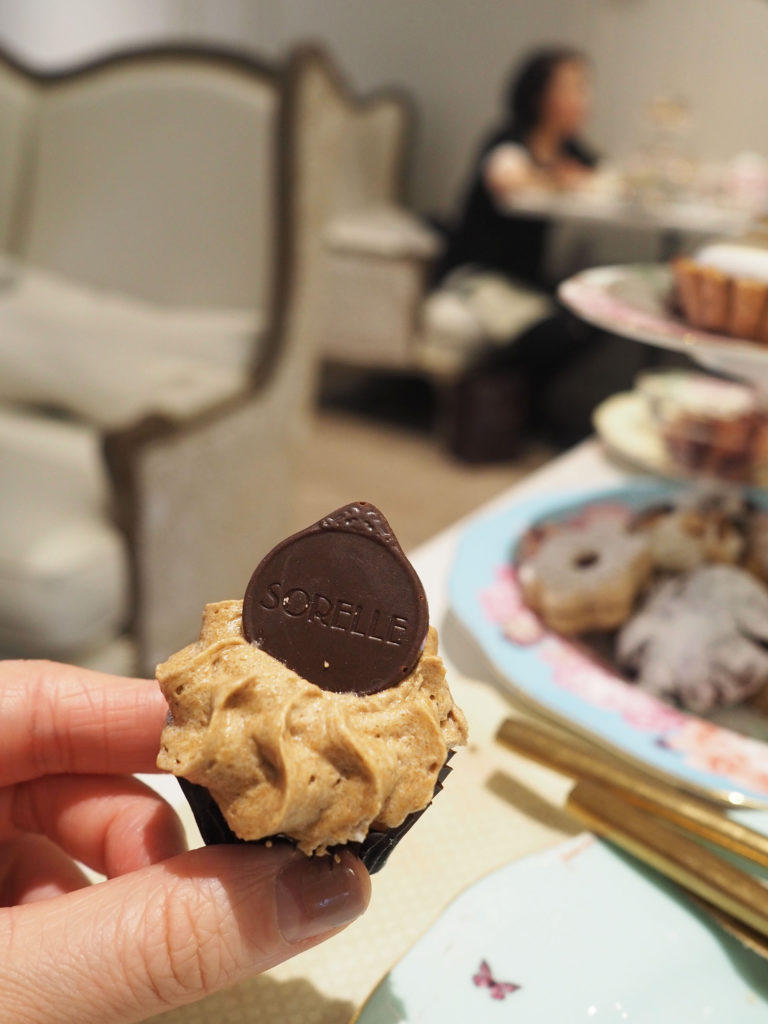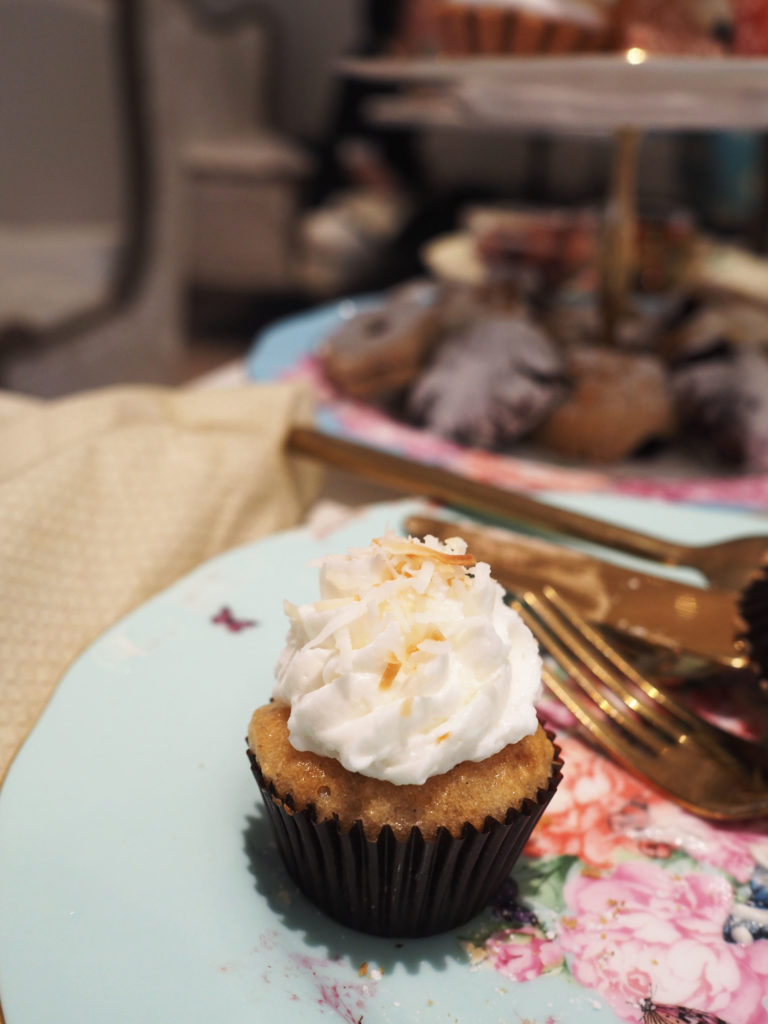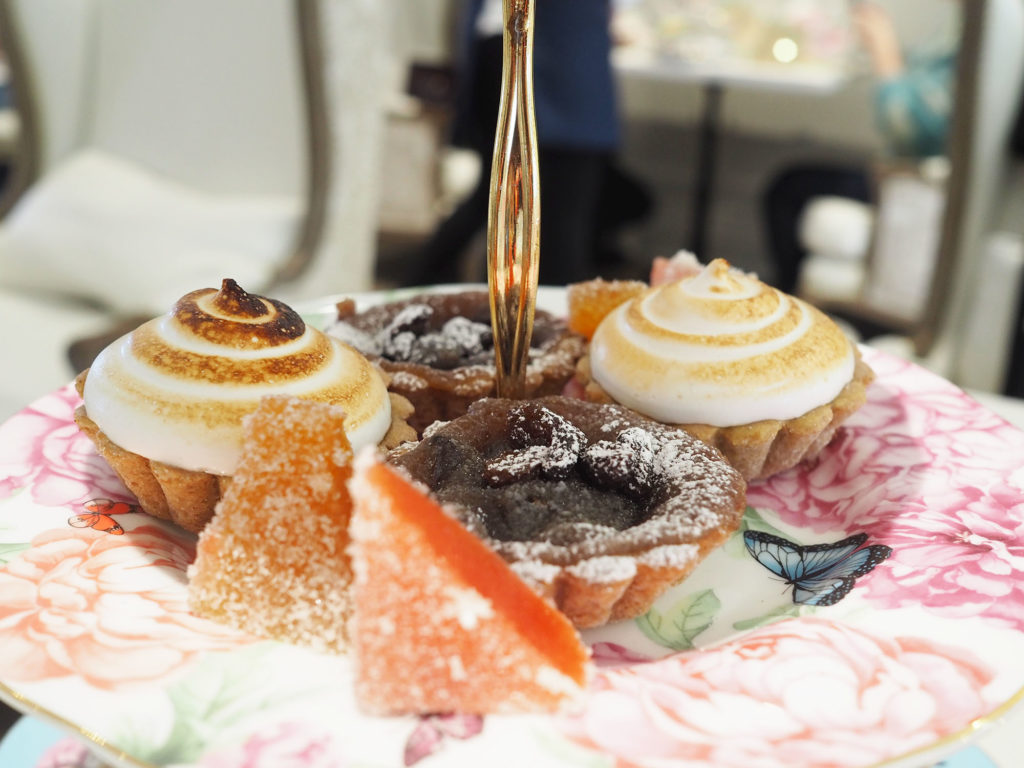 Lemon meringue tarts, raisin butter tarts, fruit jellies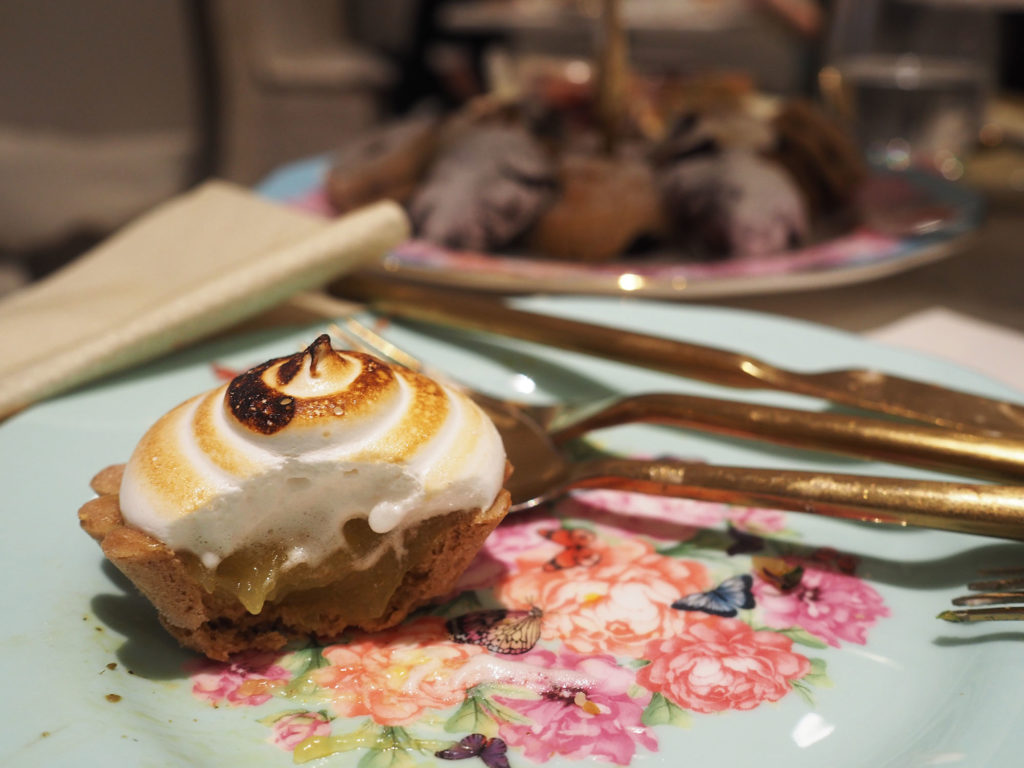 Lemon meringue tart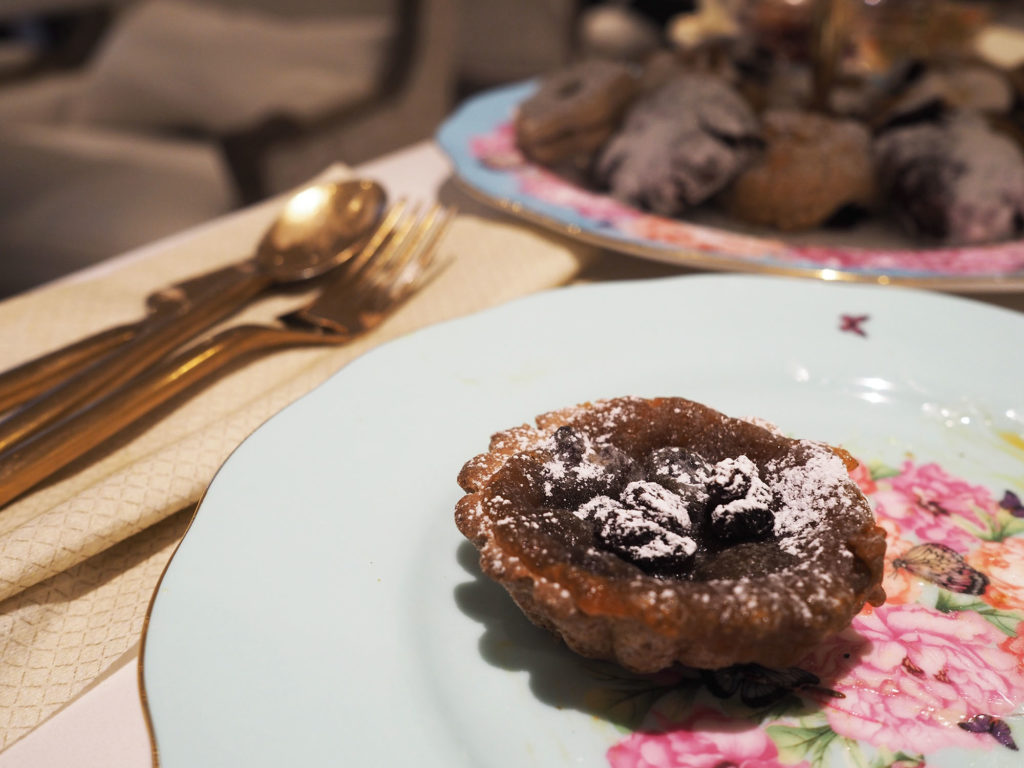 Raisin butter tart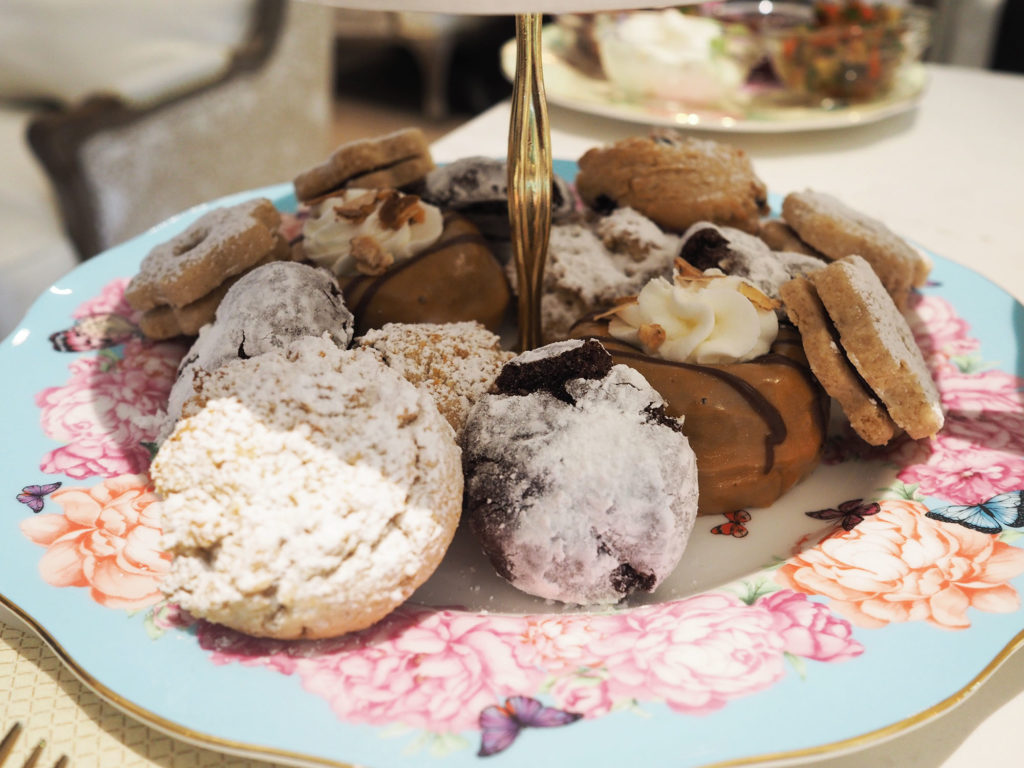 Blueberry scones, maple glazed donuts, and an assortment of cookies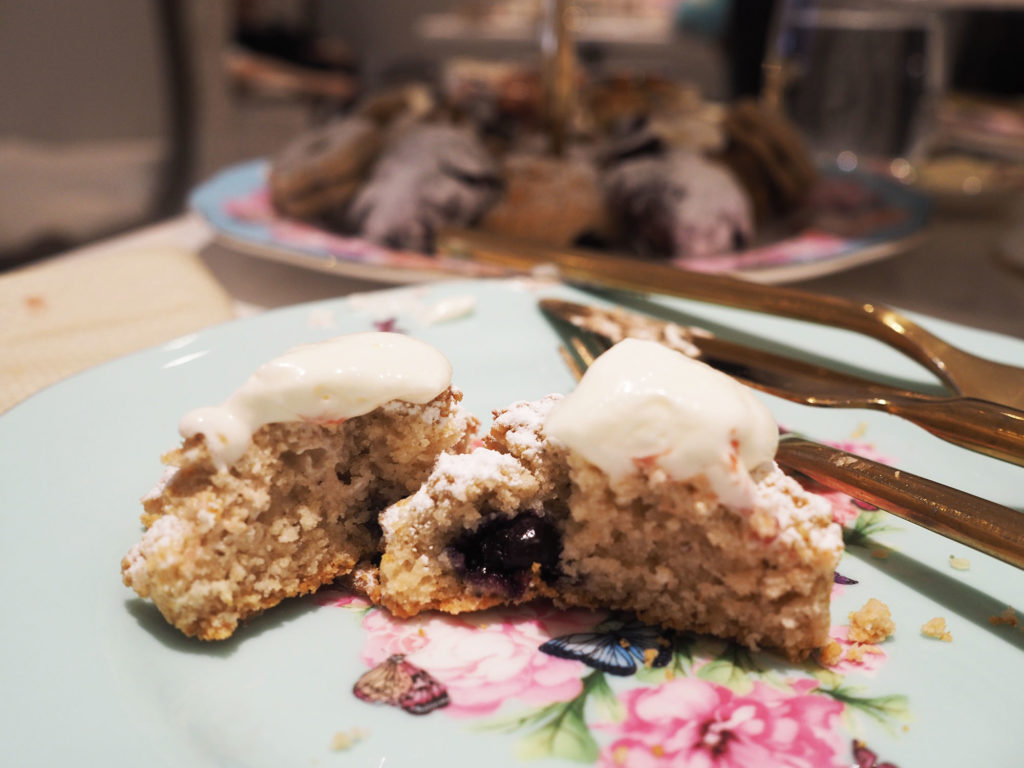 Blueberry scone 
For our savoury options we had pinwheel sandwiches and grilled cheese sandwiches made with in-house gluten-free bread, along with fancy crackers and an assortment of spreads. There weren't any traditional finger sandwiches though, which I was looking forward to, but regardless our bellies were satisfied. Vegan and guilt-free, we finished it all!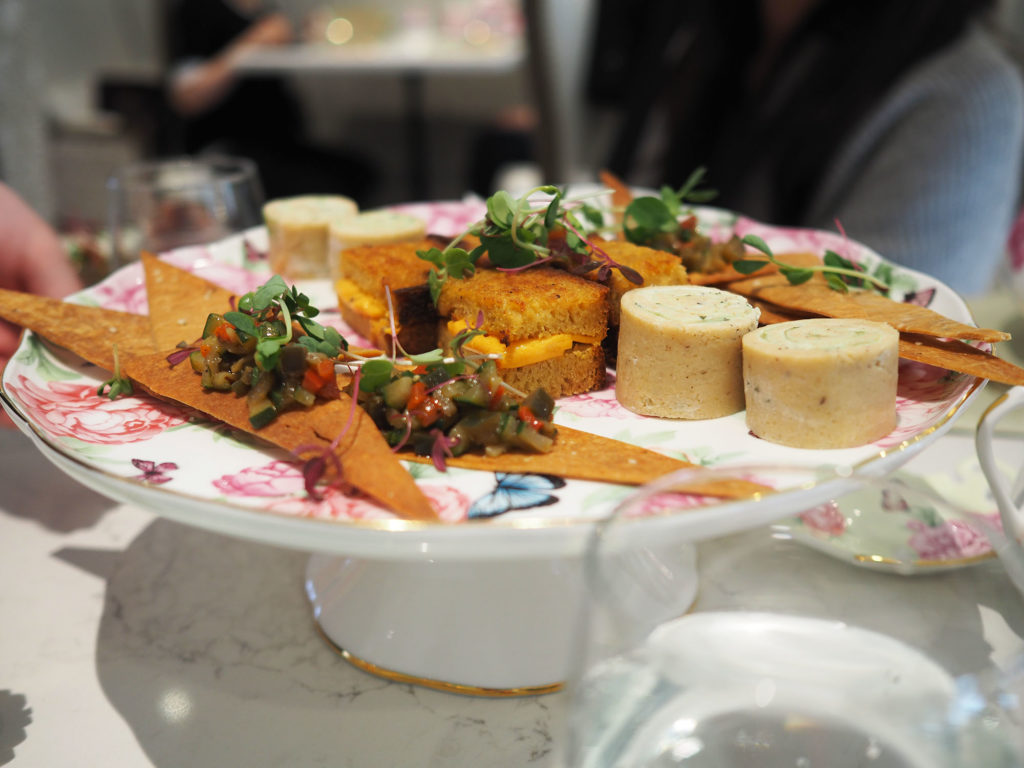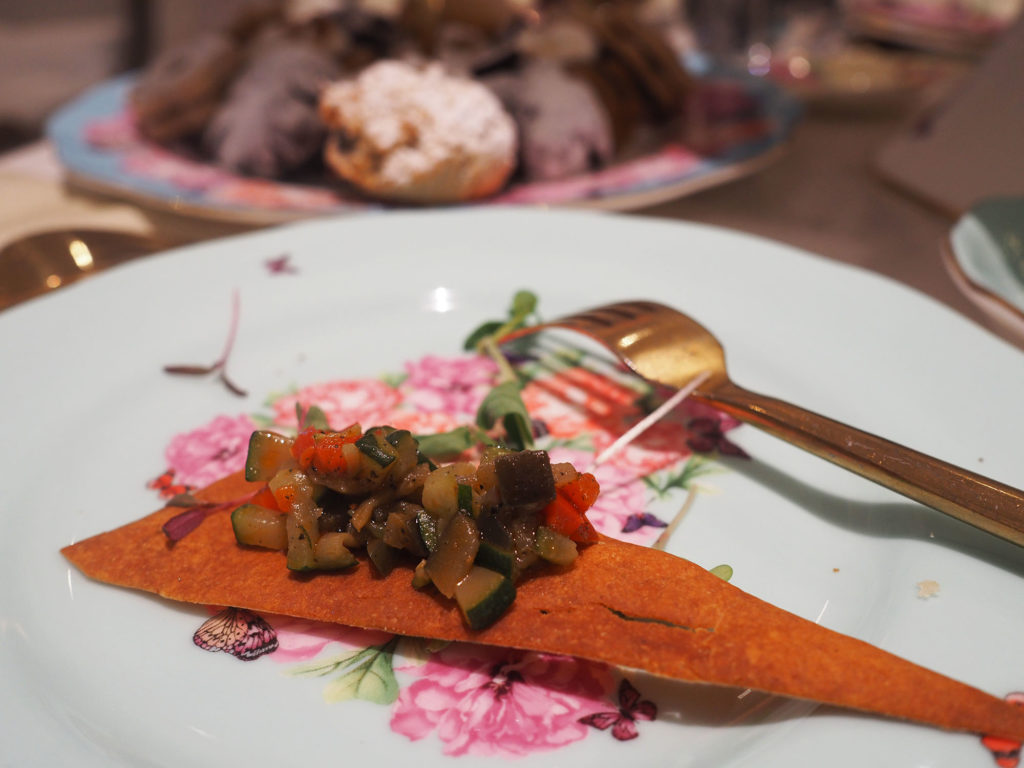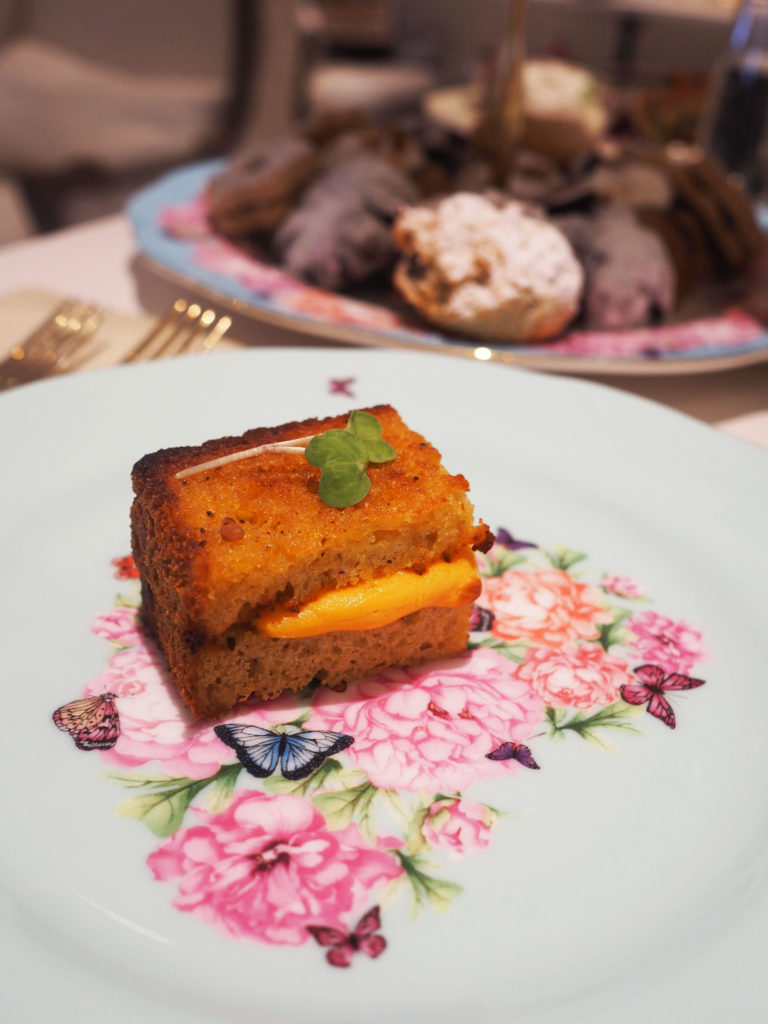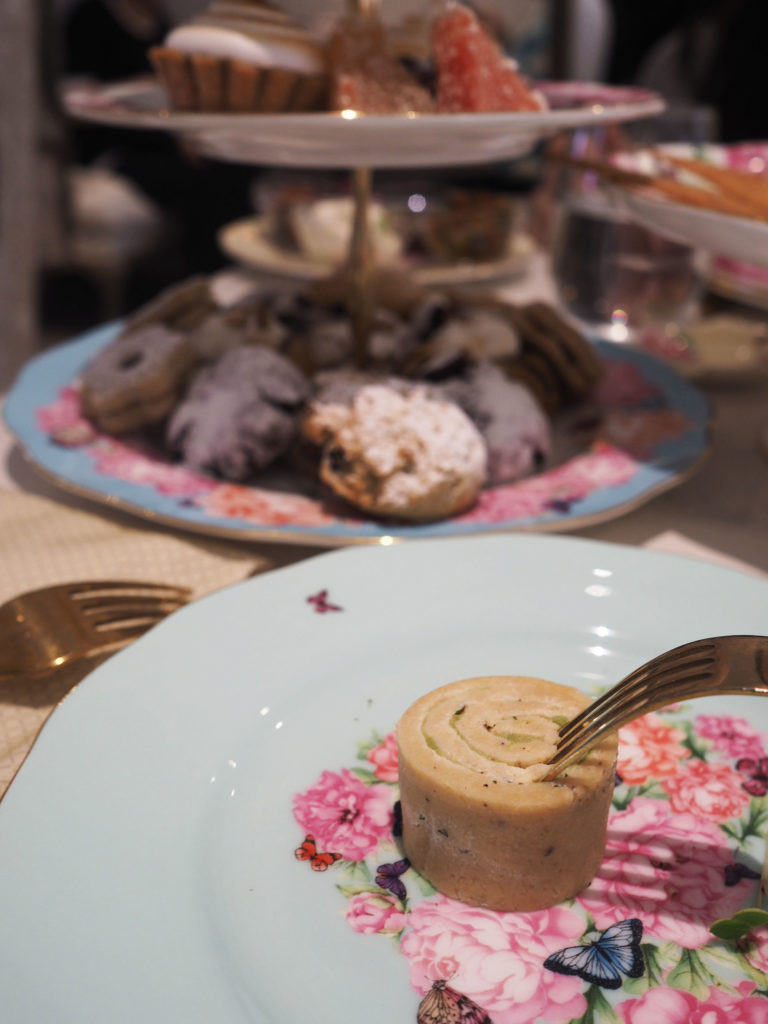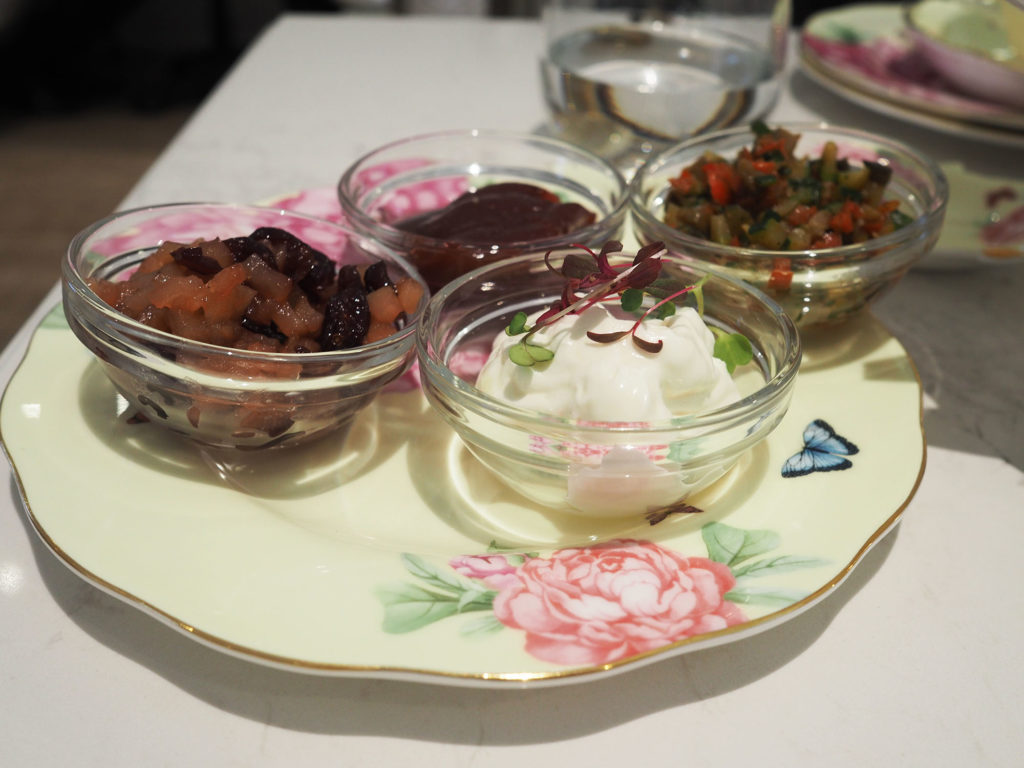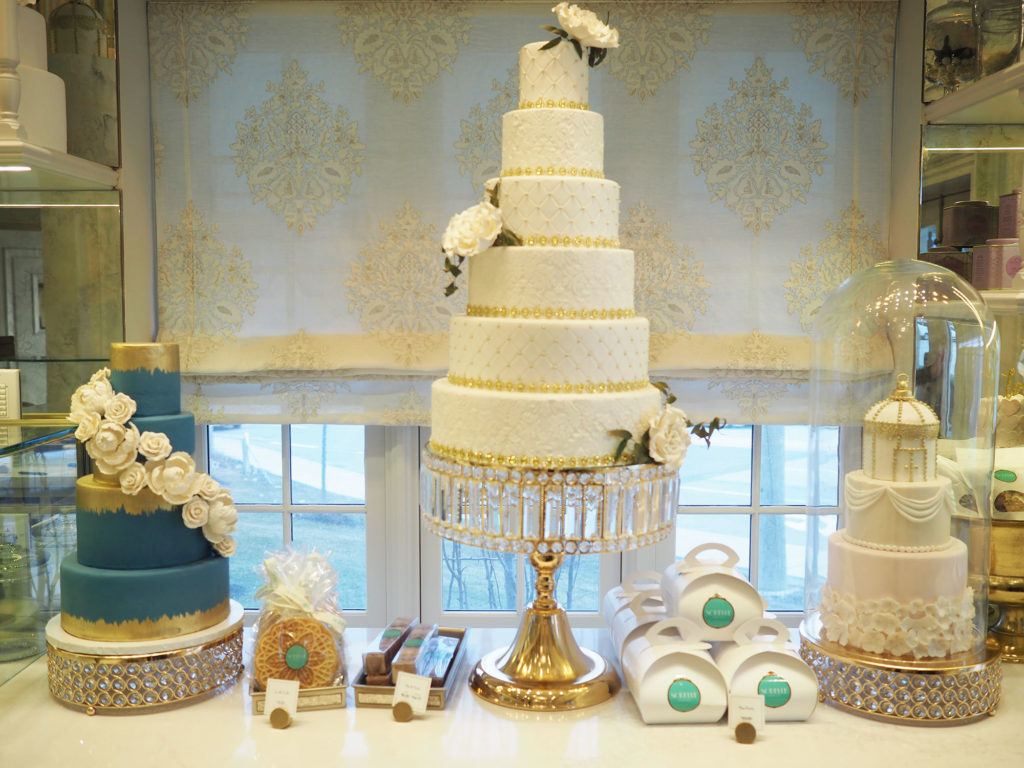 Not just for high tea, Sorelle and Co. also makes custom cakes and an assortment of sweets. Just look at these gorgeous wedding cakes on display!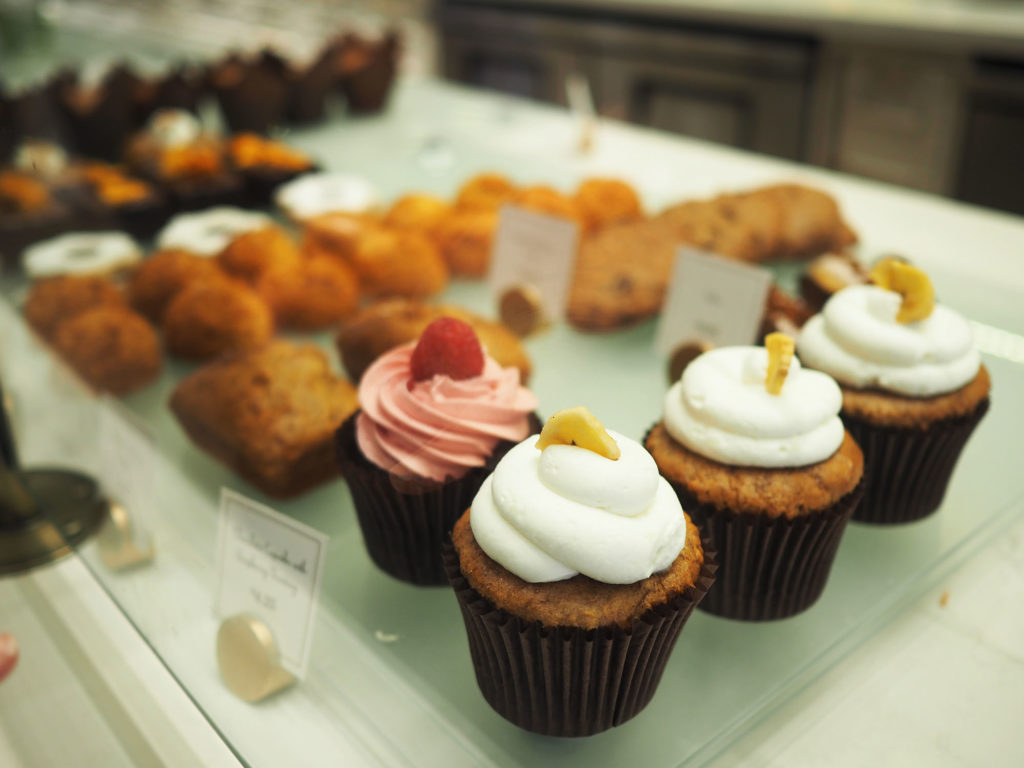 Cupcakes and treats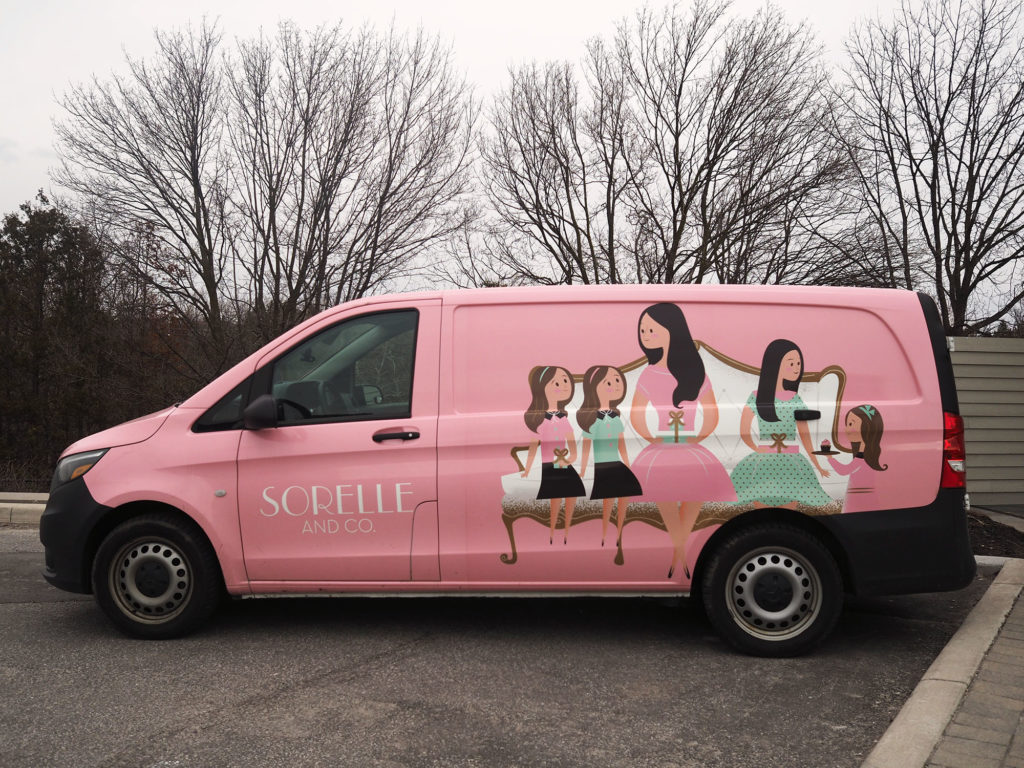 How cute is this delivery van? I'm loving the pink! By the way Sorelle means sister in Italian and the inspiration for Sorelle and Co. began with five young sisters, as posted on their website.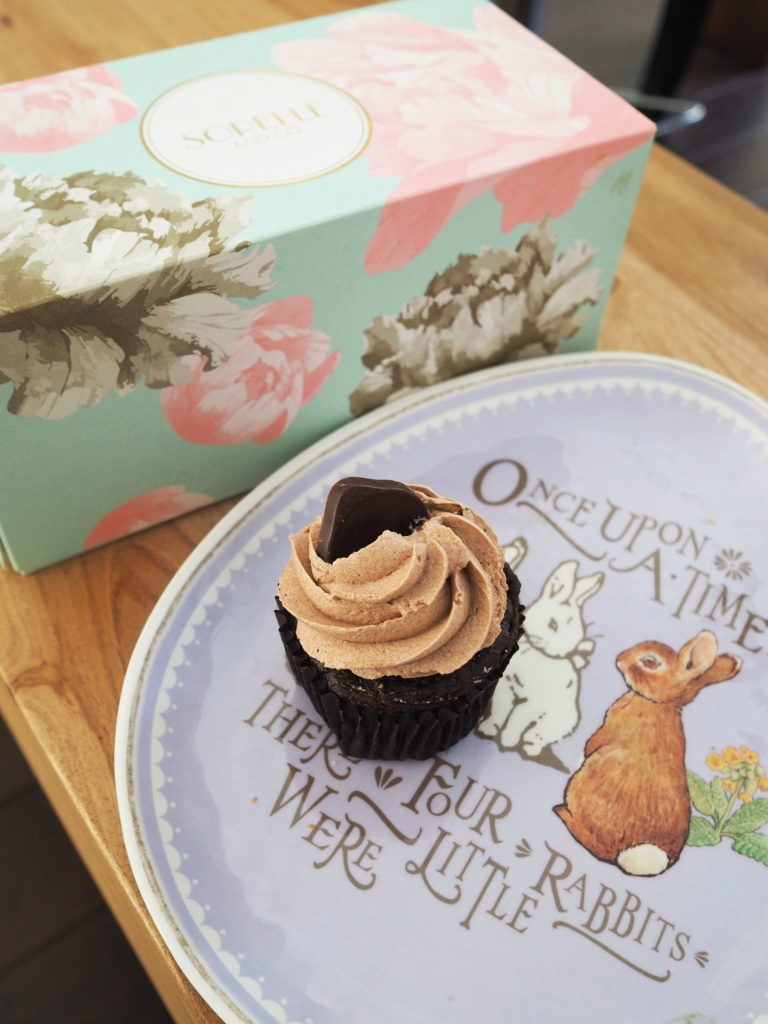 Beautiful box for a delicious take-home treat. I just couldn't resist a cupcake to go!  
Sorelle and Co. is a beautiful bake shop and café located uptown in Vaughan, which means ample free-parking (yay!). Although high tea requires a reservation and assigns you a table, you can also walk-in without a reservation for small bites, lunch and baked goods, however seating is limited and self serve. Just place your order at the counter, after which you're given a number and the server will bring out your food. Back to the topic of high tea I did find the process of getting my table very informal because they don't have a host/hostess at the door, so be sure to ask any available server and let them know of your reservation (don't wait around for as long as I did).
As a family friendly establishment I also noticed the many highchairs available for young children, so that's one less thing for me to bring with Baby James. In addition, on the second floor there is a private room for functions which has already got me thinking about future tea parties- I just can't get enough! If you're ever in the area be sure to visit Sorelle and Co. for their high tea or stop by for lunch and sweets. Also, check our their Instagram feed – it's mesmerizing. 🙂
Cheers,
Melissa
Sorelle and Co.
1050 Rutherford Road
Vaughan, ON
L6A 1S2
905-303-1073
We have more! Click here for our other Afternoon Tea posts. 🙂
Disclaimer: The opinions and claims reflected in this blog post are my own and not those of Sorelle and Co. No compensation was received to write this review.